Q: What's the best way to diversify your travel experience, interact with locals, and have a rad time?
A: Opt for alternative Airbnbs.
And with the crazy amount of unique and alternative Airbnbs available, that's exactly what I did on my recent roadrip around the Pacific Northwest and back home to Minnesota.
I had stayed in Airbnb's before, both with my family and with large groups of friends–but I had never used them while traveling solo. It was probably my introverted nature that kept me from hitting that elusive "request to book" option. What if my host is a weirdo? What if some crazy awkward scenario plays out? What if this is all an elaborate set-up to kidnap unknowing travelers?
It is worth noting that all of my fears have been put to rest. After staying in five different Airbnb acommodations over the course of eleven days, I can confidently jump on the BnB bandwagon and absolutely advocate for others to try out Airbnbs for themselves. Not only are the hosts incredible people who are consistently interesting, informative, and respectful, but Airbnb has the power to connect you with accommodation styles that you could only conjur up in your wildest dreams.
Portland, Oregon
After flying one-way from Minneapolis to Portland, Oregon, I had two days and two Airbnb reservations before I would meet up with one of my best friends to roadtrip through the PNW back home, and I won't lie and say that I wasn't a little bit nervous.
Night #1: Arbor Lodge Urban Farms 
This was by far the cheapest option available on Airbnb in the Portland area. At $20 per night, I was offered a private, pre-pitched tent, an air mattress, and an outhouse, and by my standards that is absolutely adequate. I knew I would be camping a lot on this trip already, so why not start somewhere that is just so Portland?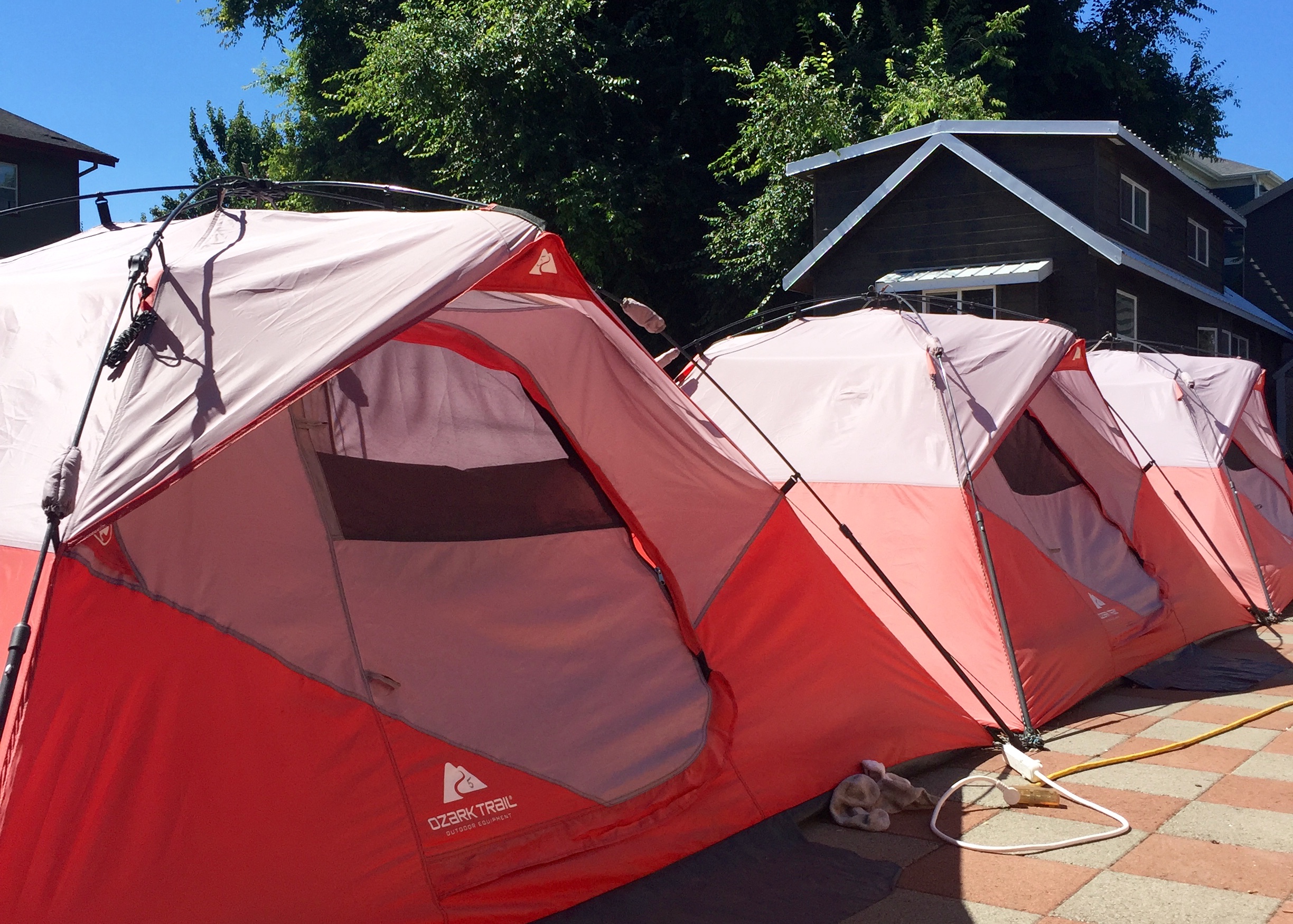 Located on the patio of an urban farm and in the same complex area as a community of tiny homes, this spot was a very pleasent place to start my Portland adventures. Safely tucked away behind lock, key, and extremely heavy gate (seriously, this thing takes a mountain of energy to budge), I felt comfortable leaving my basic belongings zipped in my tent, but carried with me my valuables.
My expierence here was fine. It was an ideal place to rest my head, and the proximity to Portland MAX Train Yellow line could not have been more perfect. One of my unpopular opinions is that long public transportation transist are actually fantastic, and the 30-40 minute ride into town helped me get a better lay of the land, allowed me to dig into my new book from Powell's, and revealed a few new Pokemon Go species that helped me level up! (Someday I swear I will start a Pokemon Go segment on the blog.)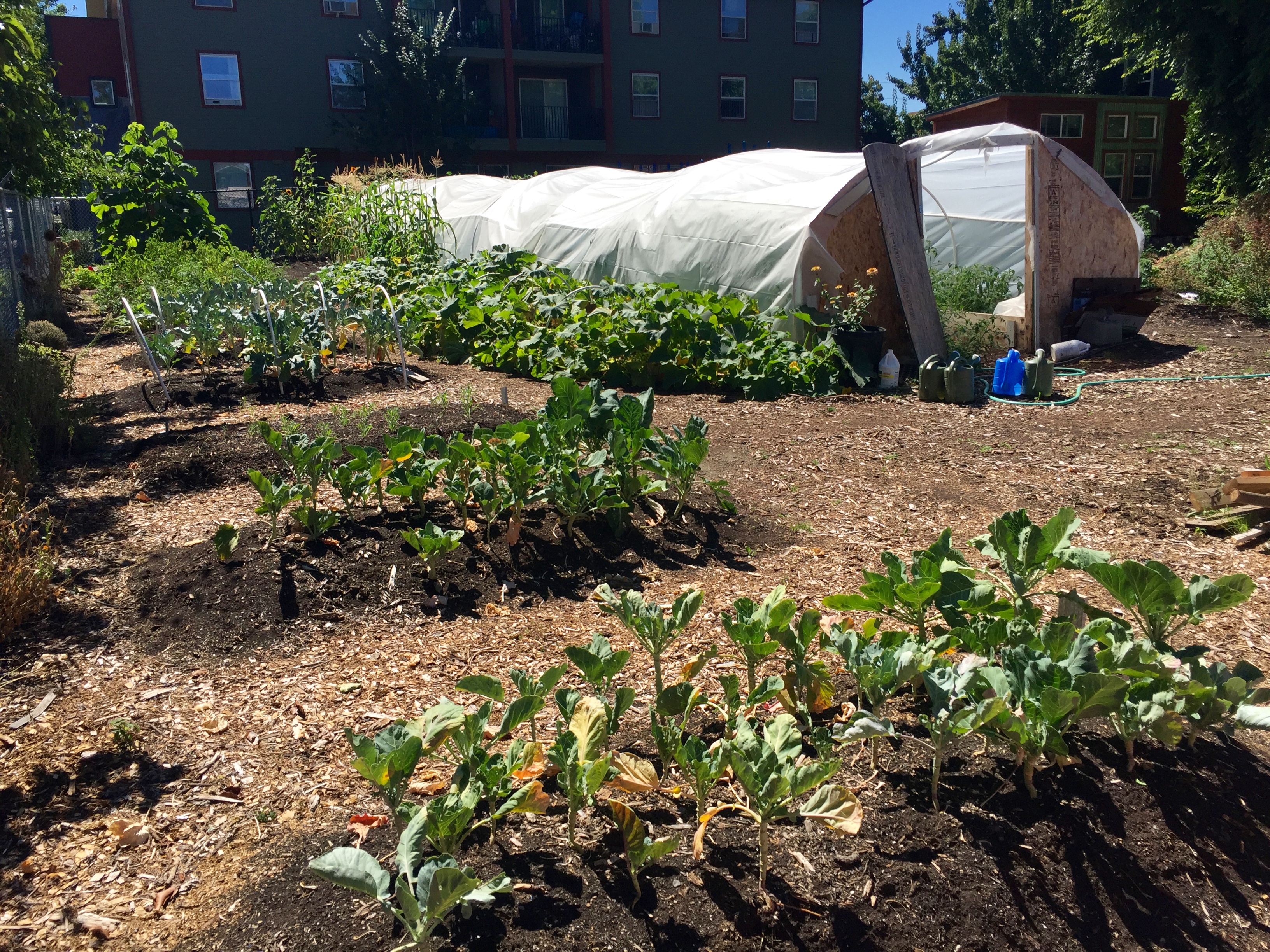 Some reviews on the Airbnb website revealed that the proximity to the train kept people up all night, but I had no problems tuning it out. It definitely made noise, but it was no earthquake-inducing rumble that other travelers experienced. Overall is was a great place to spend the night in Portland, and I would highly recommend it for the more adventureous and budget conscious traveler. The farm even has tent options for larger groups! Check it out here.
Night #2: The Bus. The Yellow Submarine. I couldn't even. 
Alright, let's cut to it. This post is chronological, so I'm not even going to try to save the best for last. The bus wins Airbnb.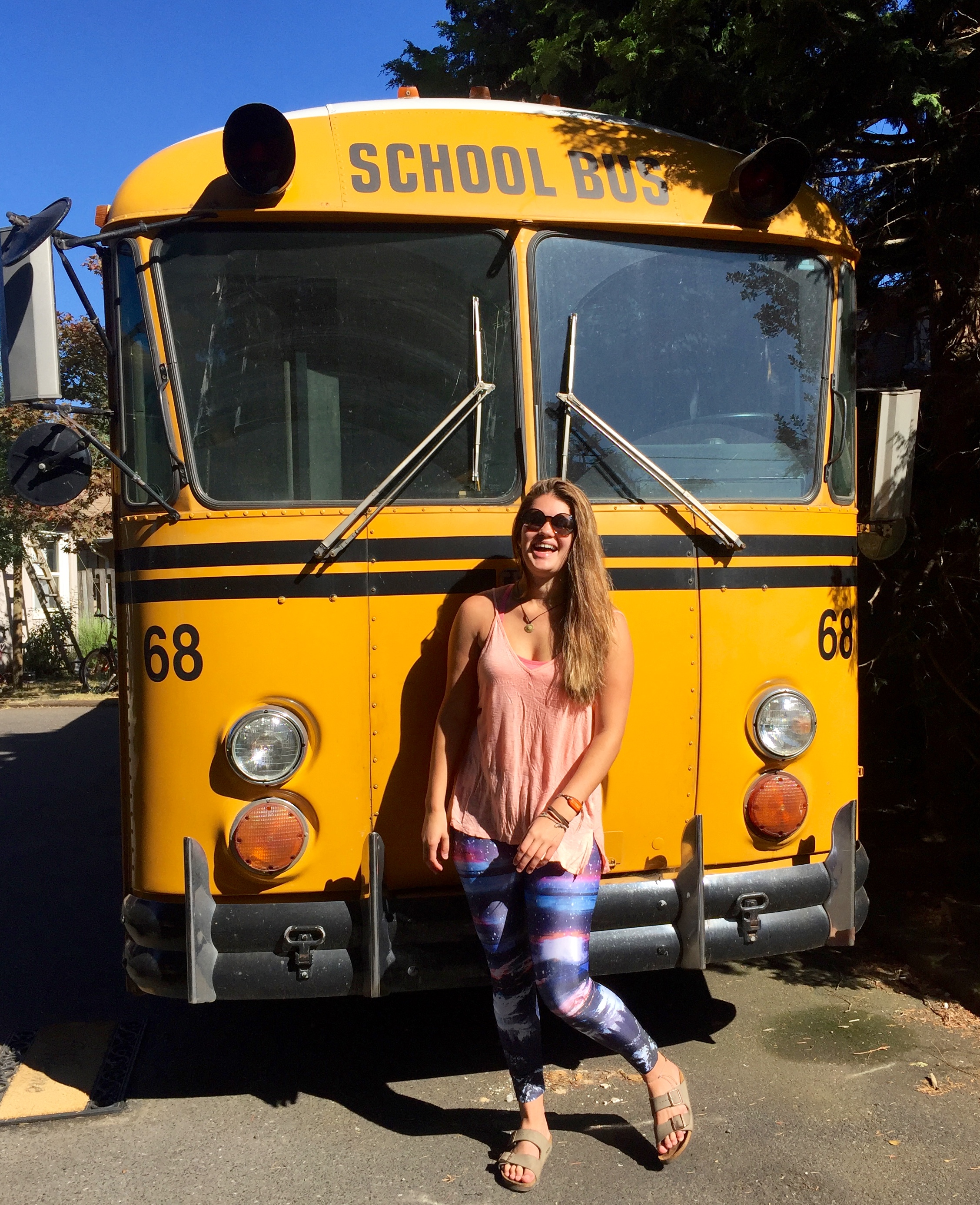 I was originally going to spend two nights at Arbor Lodge Urban Farms until I came across this listing, which must have just had a cancellation because I hadn't noticed it while doing my initial booking. I couldn't really afford two nights in the bus, and in addition it was quite a bit farther from Portland than I would have liked since I was relying on public transportation for the first two days. Unable to get the idea of the bus out of my head, I went ahead and booked my second night in Portland there, where Sarah would pick me up in the a.m. Best. Decision. Of my life.
It's a not-so-secret dream of mine to one day convert a van, bus, or really any large moving vehicle into a fully functional home on wheels. It's part of my five year plan. Having the opportunity to not only spend the night in one but to talk with the owner and carefully examine and note so many of the fine details of the endeavors was frankly priceless–and I would have paid a lot more than what I did for this experience if I did it again. The nightly rate, at $46, is a steal for this awesome place.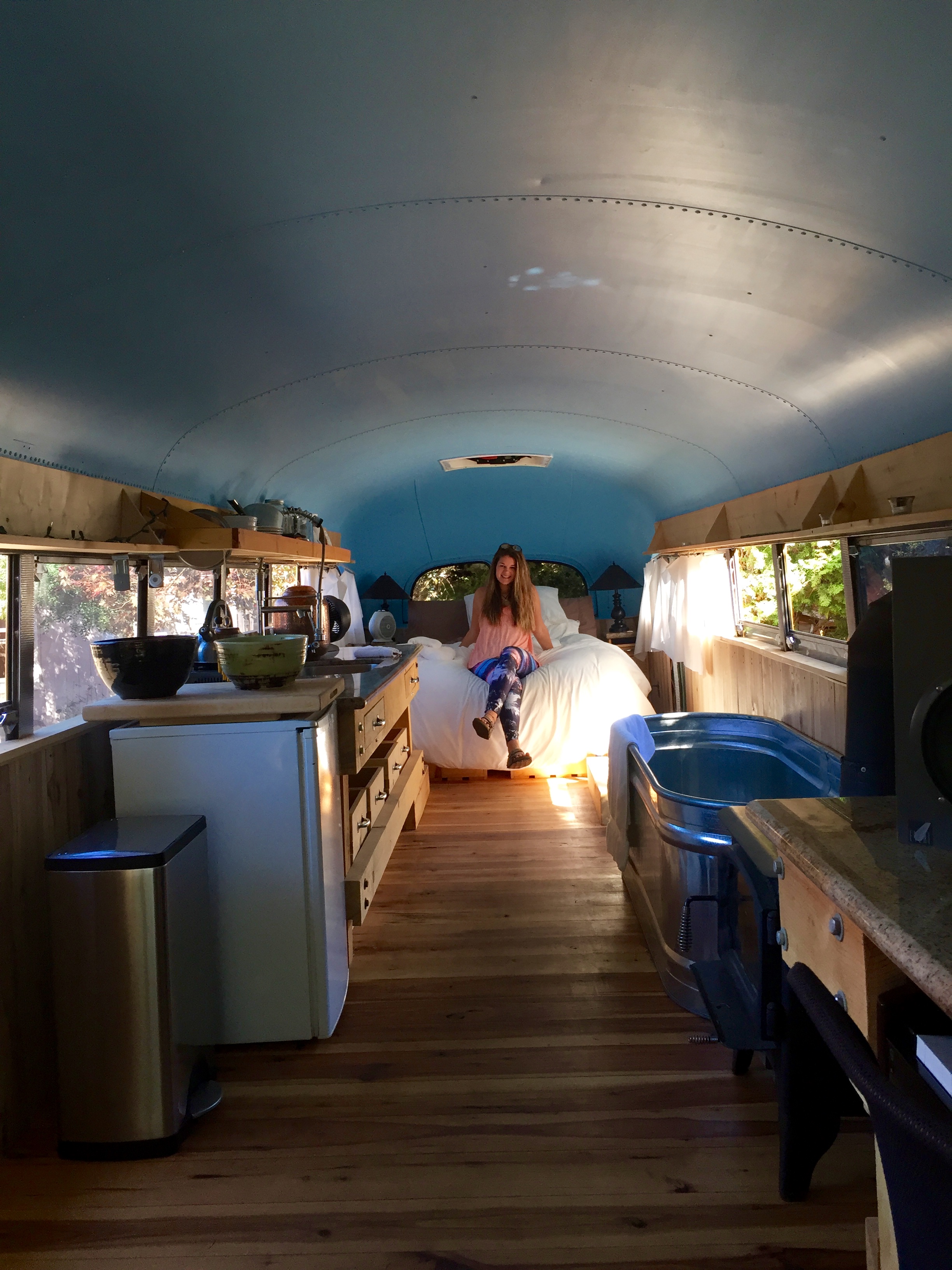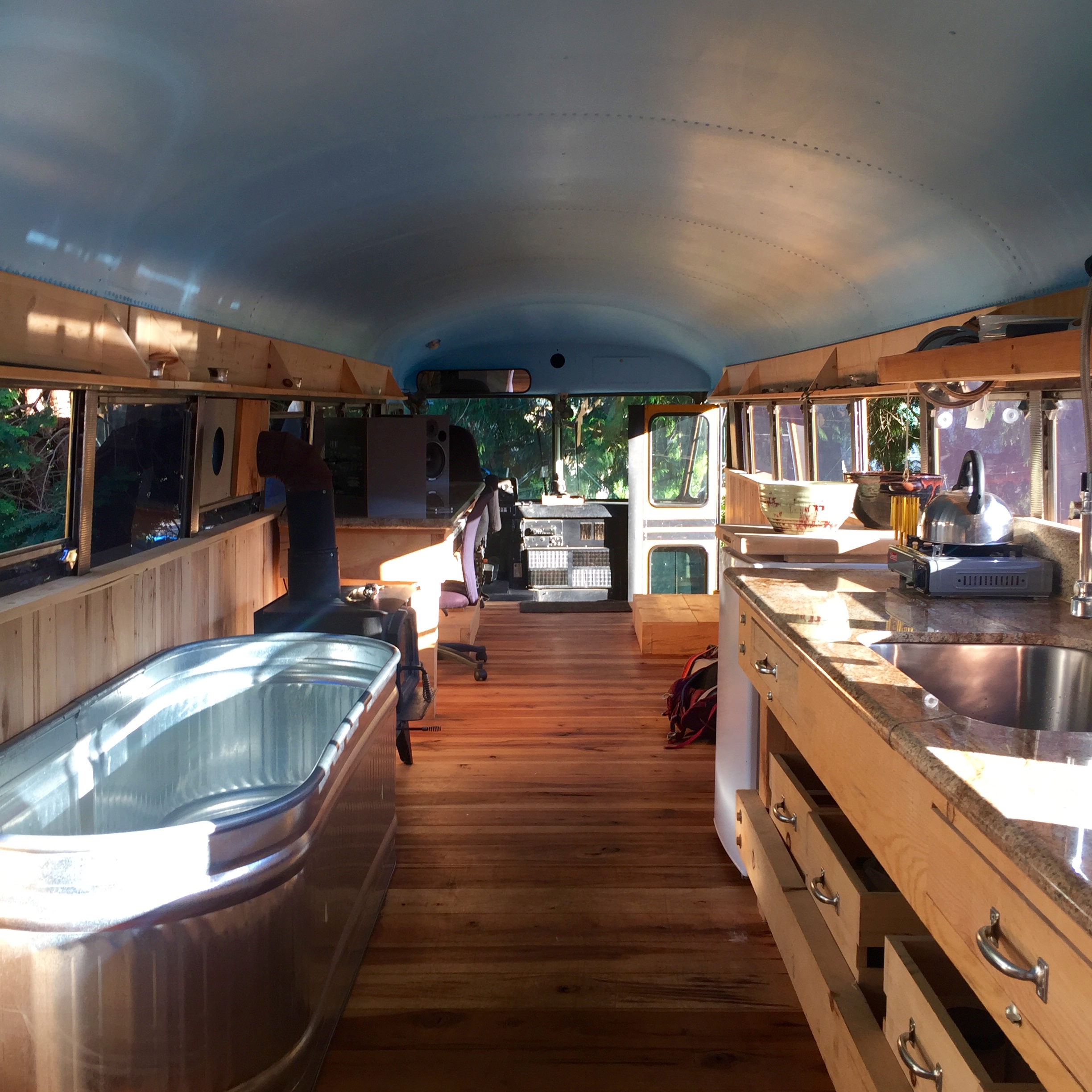 Equipped with an ultra-comfy queen bed and a small but functioning kitchen, I had all that I needed. The bathroom was located inside the house, and my host Jimmy was more than helpful in getting me settled. The bus itself is extremely clean, spacious, and beautifully decorated. It is even drivable!
The only downside was that the neighborhood was rather lacking, but a quick google search had me walking through a nearby cemetary to get my morning coffee. It is a quick walk to a bus stop, but as this Airbnb is actually located in Vancouver, Washington, a bit north of Portland, it is definitely a better spot for those traveling by car. I would still highly recommend this stay for the offbeat traveler, the one who read Ken Keasy and watched Magic Trip and who dreams of one day living in a similar project. Make your dreams come true temporarily with Jimmy's Yellow Submarine.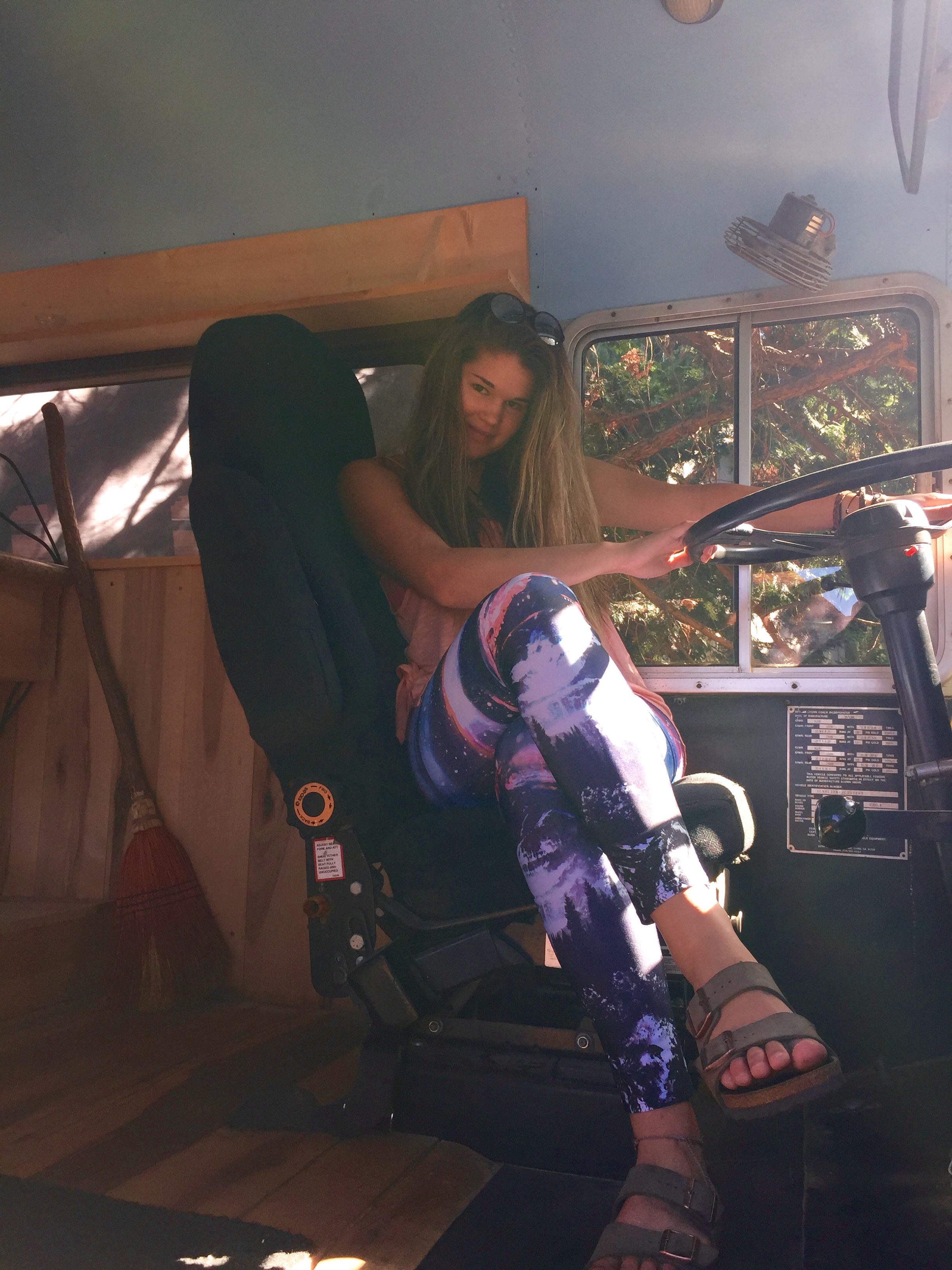 Nights #3 & #4: Camping in Olympic National Park! 
Because these were not Airbnb finds, I won't cover them here. Stay tuned for a post on the beautiful Olympic National Park, my new favorite!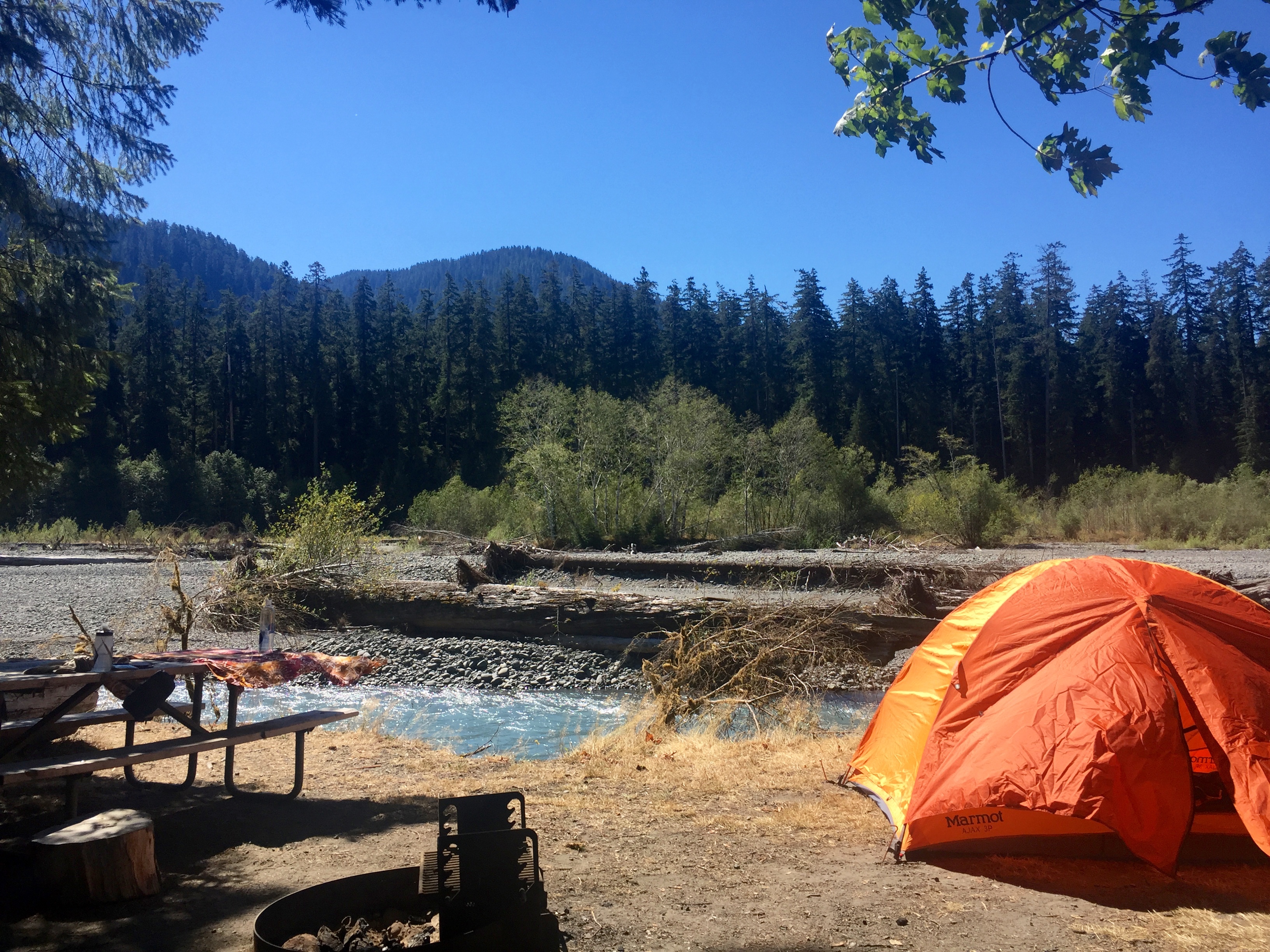 Seattle, Washington
Night #5: Retro Modern Apartment in Kirkland, Washington
Although Seattle offered a few unique spaces, such as yet another campervan option as well as some rad hammocks, we decided to stay indoors for our one-night stay in the Seattle area and spent the night in a lovely apartment home in the Seattle suburb of Kirkland. Yes, that Kirkland. Costco Kirkland. Sarah, who has a particular affinity to the Costco brand, was definitely fangirling.
I won't post any photos of this Airbnb, because it was the private residence of a lovely young couple, but you can check out more details on their Airbnb listing! Overall we had a great experience staying here, and although we did not meet host Tandy, we did recieve some great Seattle recommendations from her husband Jason. The apartment was adorable and exactly what we needed, and it felt great to sleep under a roof after several nights of camping!
Mt. Rainier Area, Washington
Night #6: Hidden Valley Campsite
After spending probably the least amount of time possible in Seattle, we trekked down to the Mt. Rainier National Park area to camp for the night at a site I came across on Airbnb. We knew that we wanted to visit the park area, but knowing that we would get there later at night, we didn't want to chance not finding a campsite. We booked this one, listed at only $15 on Airbnb, and although we were apprehensive it ended up being a gorgeous decision.
Gorgeous because of the sunset and sunrise, of course. Doesn't our orange tent just look magnificnet in that valley? We think so too.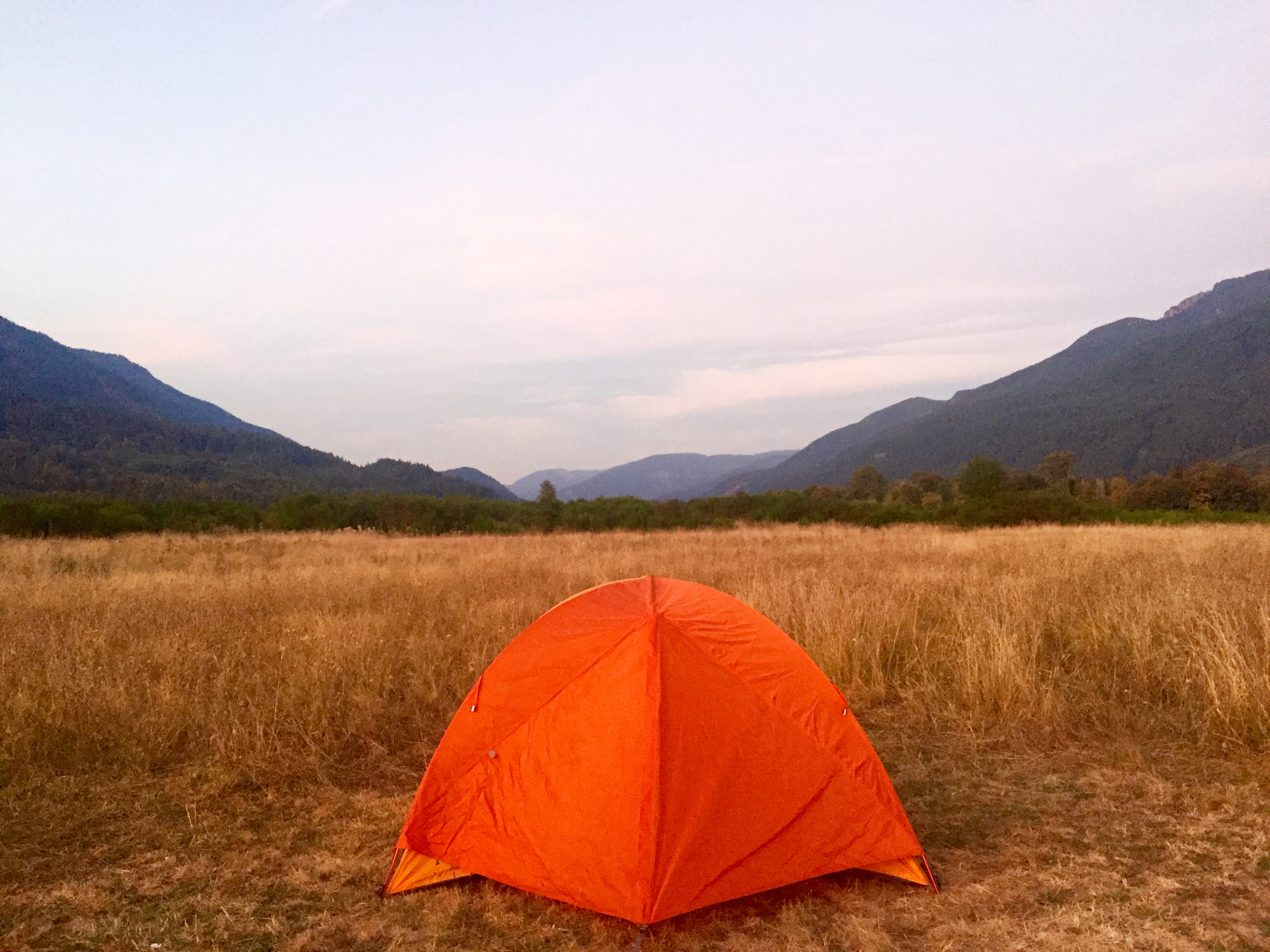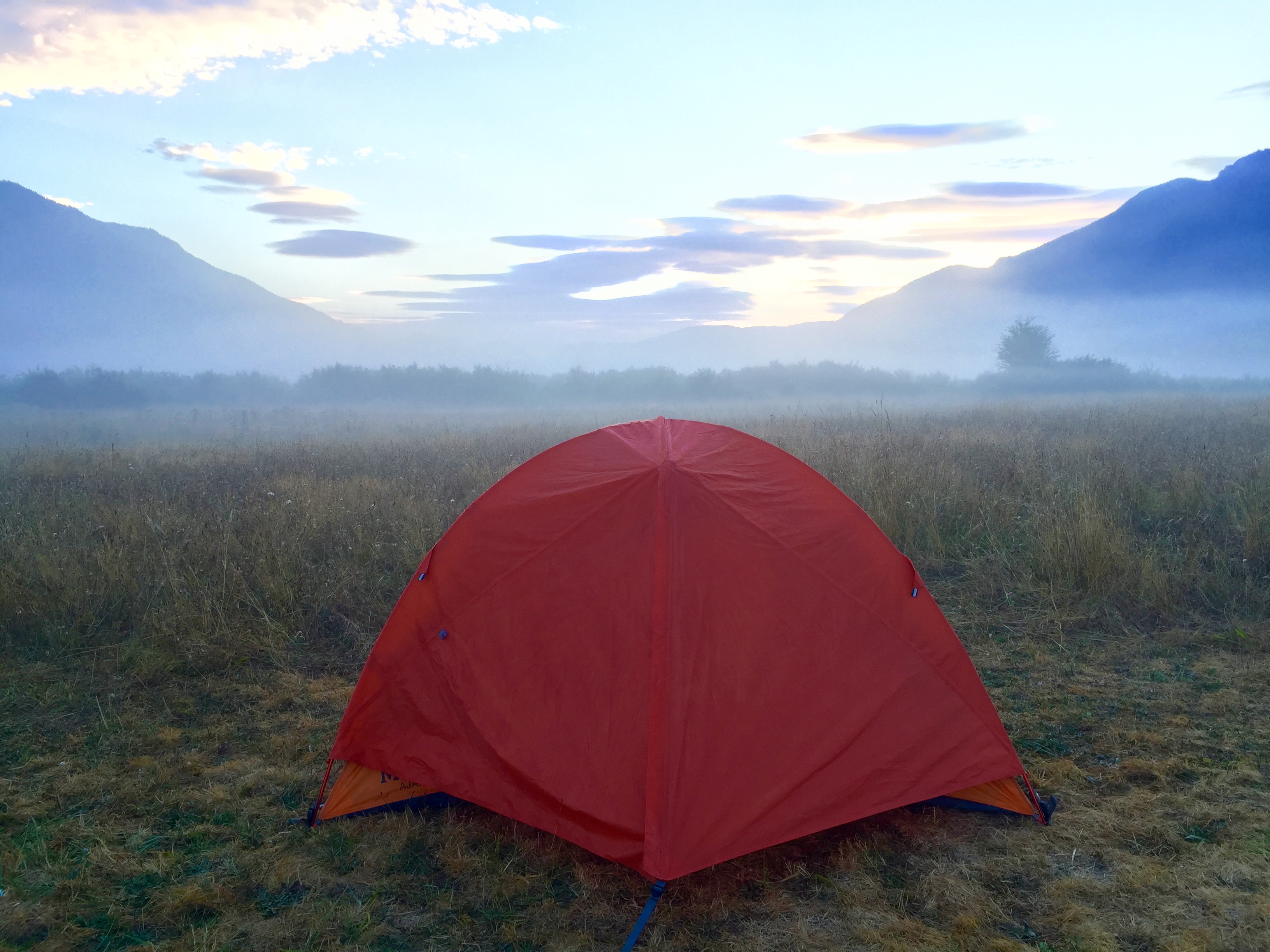 We were greeted upon arrival by JC, who runs this campsite on a beautiful piece of land in this "gated community," which is a large expanse of field, trailers, and tiny homes along the Cowlich River. We were promised wildlife, and we were not disappointed. JC even had the most adorable little dog named Brutus, who provided endless entertainment as we were shown around the property.
The best part about this campsite? The seclusion. The stars. The fact that we were so out in the middle of nowhere, with no cell service and only one other group of campers who weren't even in hearing range. It was so different from camping in a national park, and it was the perfect spot to kick back, drink a beer, and feel absolutely awesome about our roadtrip. Check it out here!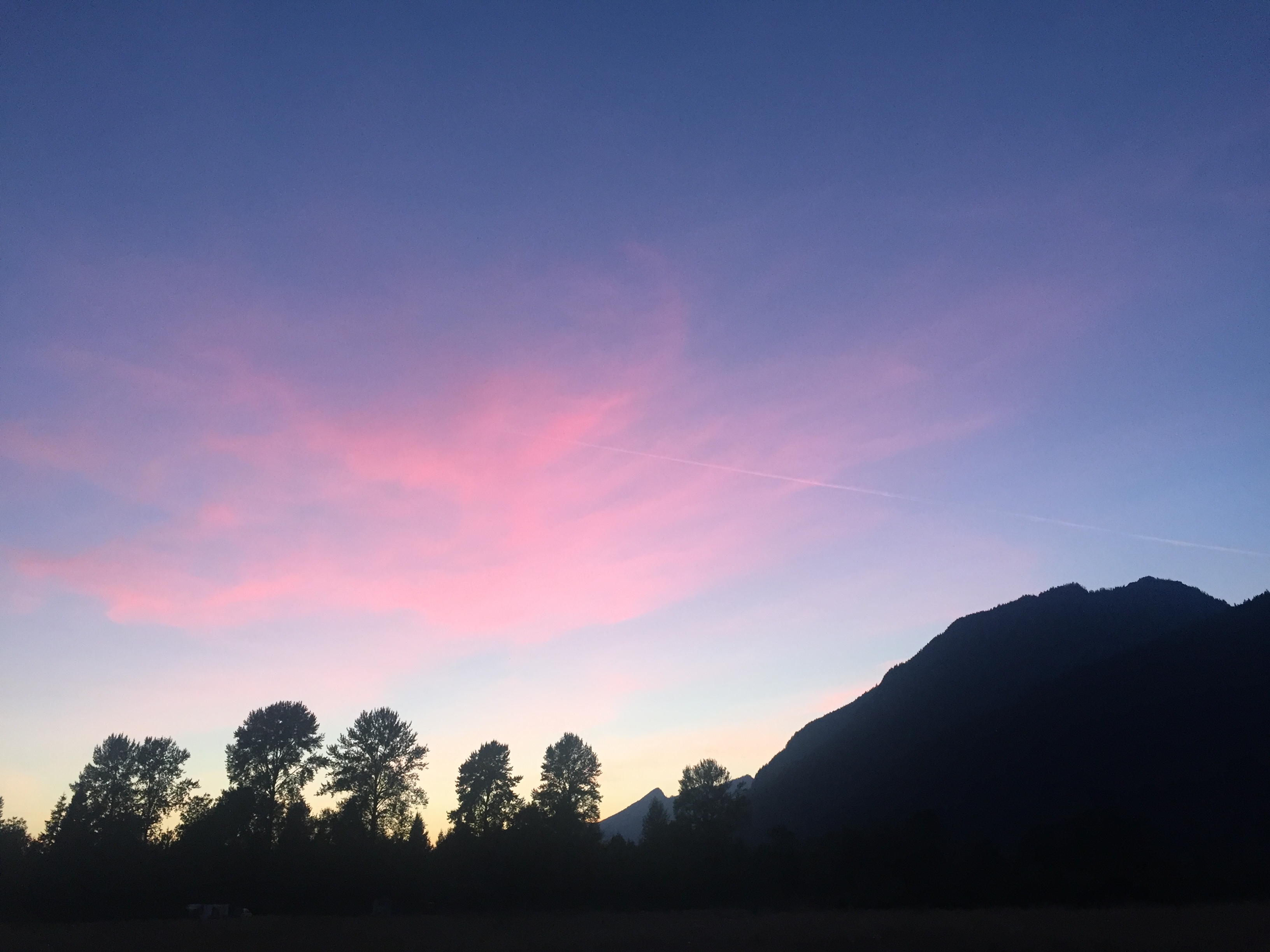 Kalispell, Montana
Night #7: Lonesome Dove Guest Ranch 
After a long day of driving, this was a fantastic place to rest our heads and gear up for the day ahead. This was our last stop before Glacier National Park, and was a wonderful gateway into the "Wild West" aspect that Montana is so notorious for.
This ranch is home to all sorts of animals. Buffalo, rabbits, horses, chickens, you name it. It was part functioning farm and part guest ranch, and we were lucky enough to score a night in one of their huge, authentic tipis. With mainly the basics: two comfy beds, extra blankets, towels, and two flashlights, our tipi experience was exactly what we had expected, nothing more, nothing less. The bath house was a bit of a walk, and we had some serious troubles finding it when we arrived late at night, but the shower and toilet facilities were fine and we were able to use the outhouse located behind the tipi area.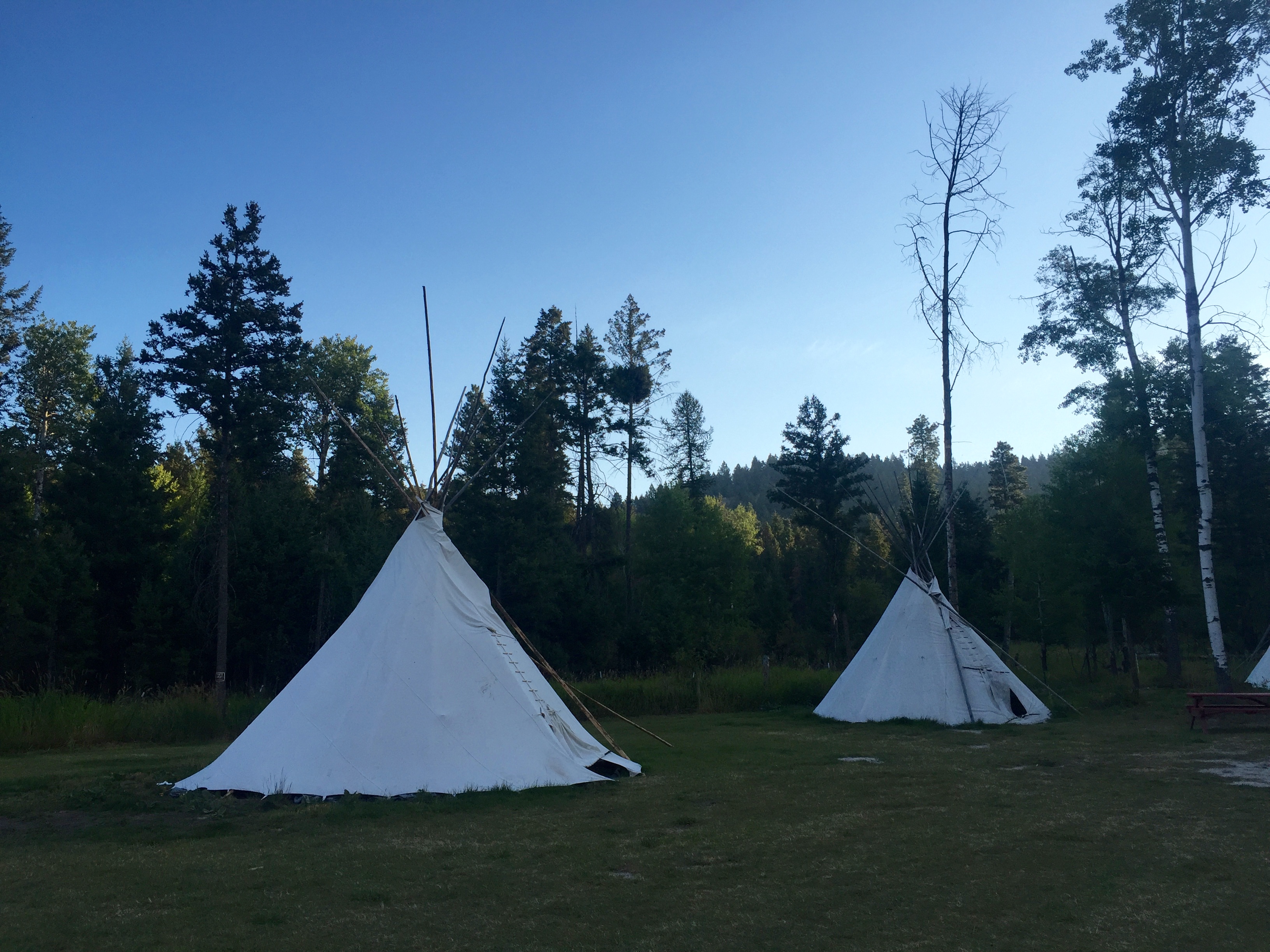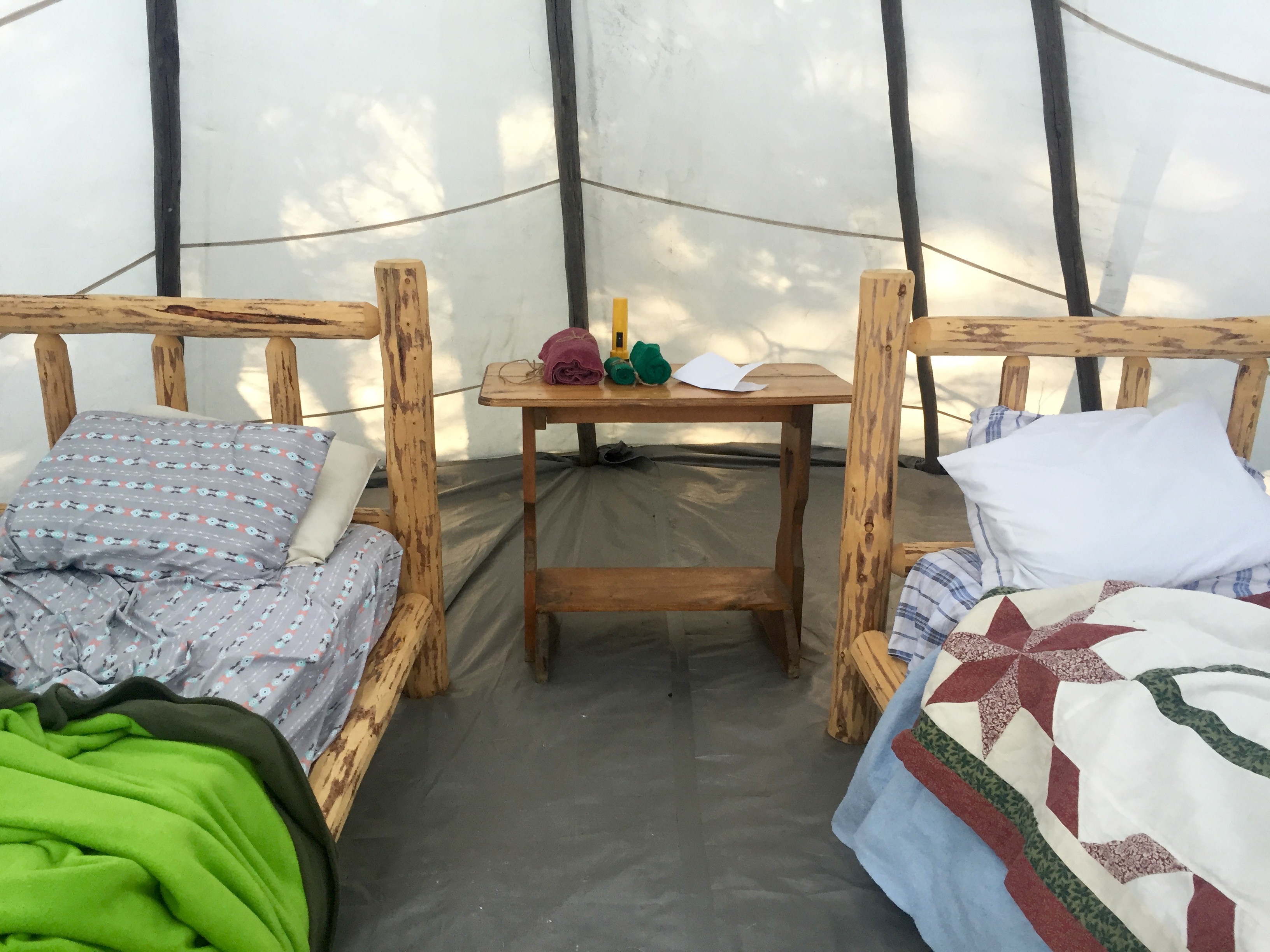 The most amazing perk was that the ranch offered breakfast in the morning! I'm not sure if this is common with Airbnb listings, but a free delicious breakfast was included in our stay. And let me tell you: Best bacon I have ever eaten in my life. I'm not sure if it was some weird kind of buffalo bacon or if they just really know how to cook it, but that's one bite I will never forget.
My only regret staying here was our late arrival. We had a long driving day all the way from Packwood, WA to Kalispell, MT, so I feel like we didn't get to fully experience this wonderful ranch, especialy since we wanted to depart early and start hiking. At $75 per night, that was quite a bullet to bite, but it was entirely our own planning mistakes that kept us from getting to Kalispell until about 11 p.m. However, I would still absolutely recommend staying here, and I would spend more time here myself if given the opportunity. Reserve a tipi (or other space on this beautiful ranch) here!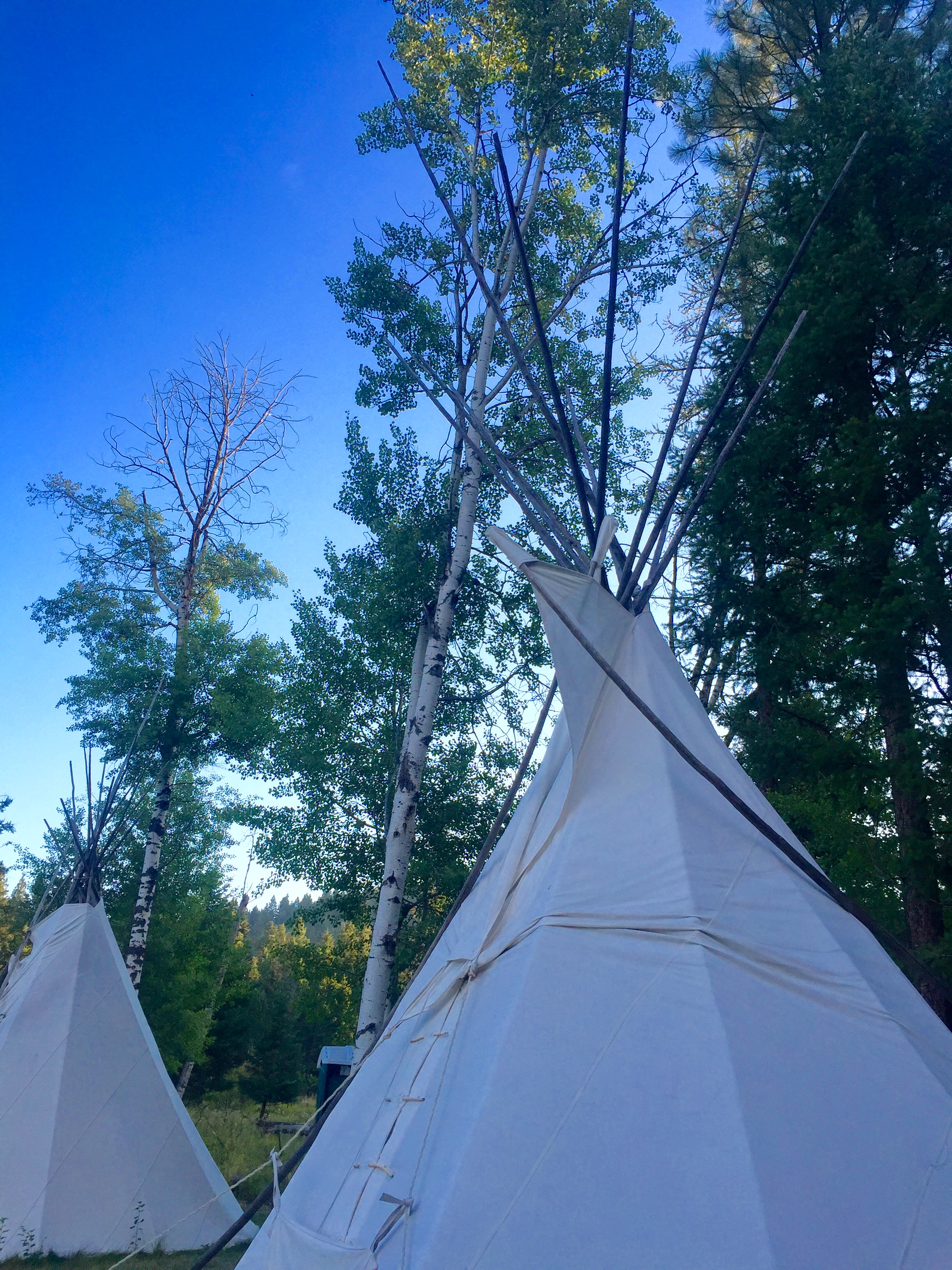 Nights #8, #9, & #10: Camping in Glacier National Park and staying with friends in Missoula, MT and Medora, SD. More posts to come on those lovely places!
Our incredible Pacific Northwest roadtrip adventure was made so much more unique and eventful with the help of Airbnb, and I will always check here first for all of my upcoming stays around the world! I am still so blown away by the diversity of experiences offered through this network, and I've already been looking into future trips based solely around the unique acommodations I can find there!
Have you tried Airbnb yet? Sign up with my linke and we will both recieve a $35 credit when you book your first trip! There is no need to book right away, but simply signing up through Facebook now and then sharing your link with friends helps us all out, and I know that nobody is against a little accommodation discount (wink face).
Disclaimer: this post is in no way sponsored by Airbnb or by any of my Airbnb hosts! I just had some amazing, unique, and memorable experiences that I couldn't wait to share with my readers. You will always recieve my most authentic opinion. 
Have you stayed at a particularly memorable or unique alternative Airbnbs? Who, what, when, where, and why? Tell me in the comments!