If you're a backpacker, a last-minute planner, or a broke traveler like me, visiting highlight destinations like Machu Picchu can really prove to be difficult. When you're in Cuzco, Peru for a few days, how can you not visit one of the UNESCO Wonders of the World? Here's how you can. 
So you're on a budget. You're not really strapped for time, but you're strapped for cash, and you would love to send an iconic Machu Picchu photo home to mom or to post on Instagram just to say you've been there. You're smart—you know that it will be cool, but it won't be some life-changing experience that's worth shelling out upwards of $150 on a train ride to the lost city or booking 6 months in advance to hike the Inca Trail, which has been under criticism for questionable ethics regarding wage labor and environmental conservation.
The Peru Tourism Board is smart: when building Aguas Calientes, the gateway village to Machu Picchu, they didn't provide road access in order to limit options and regulate traffic to the area. You can't just take a bus there the way you would to literally everywhere else in South America. There are only trains and trails, but you can hack the route and take the path less traveled—it just might take you a bit longer.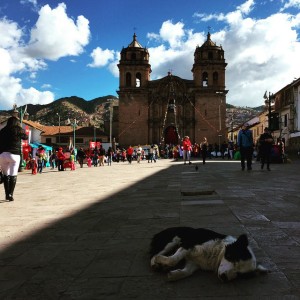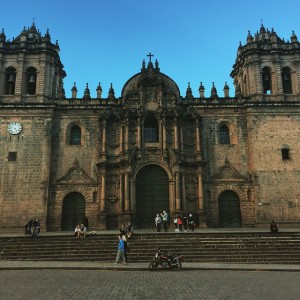 Step One – Hit the Road 
Wake up bright and early in Cusco, and bring a day pack with only necessary items. You probably won't need your entire 50L Osprey for this trip. Leave it in your hostel's storage under lock and key. Head to the bus station in Cusco and buy a ticket for Santa Maria, a town that is only about 15 miles geographically from Aguas Calientes. Tickets are about $5-10.
The bus ride is about 6 hours long and winds around the Andes mountains in a way that will absolutely terrify you. You will be able to look directly down to valleys thousands of meters below you, and unless you want to be on extreme alert the entire time, it's best just to accept your premature death and draft a last will and testament. With that said, I felt comfortable literally putting my life in the hands of our jubilant bus driver and was impressed to see that the quality of the roads was significantly better than I had read about online, as they were recently paved in most areas.
-or-
Head to the mini bus station, which is different from the main bus station. Take one of the combis to Ollantaytambo, a village in the Sacred Valley with several ruins and some markets. It is a lovely place to spend an afternoon, and may be worth the stop if you are interested in seeing more of the culture in the area. Transportation patterns change frequently, so ask around about combis heading to Santa Maria, or wait and catch a bus heading west at the bottom of the hill from the village.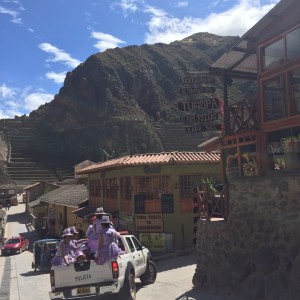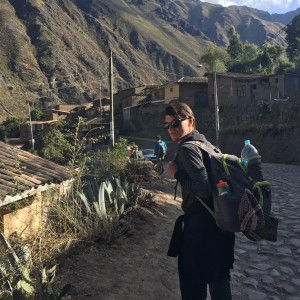 It is also a great option if you still want to take the train to save time, and by taking the train from here rather than Cusco you'll be cutting some costs.
Step Two – Catch a Ride
Once you've arrived in Santa Maria, listen for the chirping of drivers at the bus station shouting "Santa Teresa, Santa Tereeeeesa!" These cars don't look like typical taxis, but there's no need to worry. Find another traveler to hop in one with you and agree on a payment, no more than 10 soles each.
This ride is about an hour and a half long, and it is spend driving along gravel roads and fording streams and waterfalls until you reach the very small town of Santa Teresa. Ask around for a hostel, and try to hold your surprise when you are offered a private room for the night at $3 per person. It can be that cheap. Get some rest and set an alarm for as early as you're willing to wake up.
Step Three – Trek the Tracks
Arise. Lace up your hiking boots. Grab a breakfast sandwich at the juice bar near the taxi station and find a driver to take you to the Hydroelectric station, or the hidroelectrico. This should only cost about $1 and is a 5 mile ride to the power plant train station.
From here, you'll hike along the train tracks that will lead you directly to Aguas Calientes! It is said to be about 14km, but it was more like 8-10 and it is relatively flat the entire way with a few uphill crossings. There is a trail log at the beginning, giving the illusion that you are really hiking the Inca Trail, and along the way there are a few small restaurants and fruit stands catering to low-budget travelers like yourself. Watch out for the train!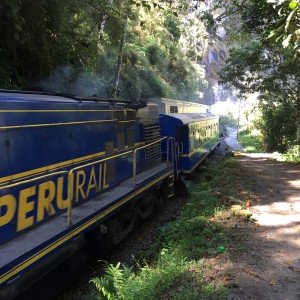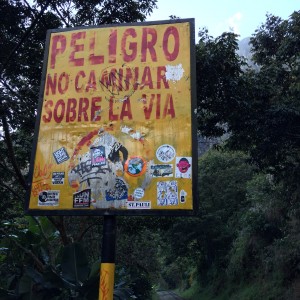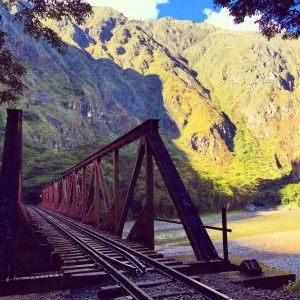 Shortly after you pass a foul-smelling garbage facility, you will see signs for a butterfly garden, and this is how you know you've made it! The walk only took about two hours and brought us directly into Aguas Calientes, passing by the climb to Machu Picchu.
Stop an have lunch at one of the many restaurants, and find a hostel to dump your things. You've arrived! And you probably spent less than $20 to get there.
Step Four – Get Your Tickets
Don't forget to buy your ticket into Machu Picchu! This unavoidable fee can be made cheaper with an ISIC, an International Student Identification Card. They are also sometimes willing to accept student ID cards as long as the issue date is within one year.
The bus price, however, is actually unavoidable (unless you want to hike completely uphill for several hours.) At $12 each way, its pretty steep—but it may be the one luxury you indulge in for this excursion. If you want, you can just bus one way up and hike back down to cut that cost in half.
Step Five – Explore the Ruins
When you arrive at Machu Picchu, don't assume you can explore it on your own. Shell out the $3 for one of the many tour guides so that you actually gain something from the experience and understand what you are looking at, or it really will just look like strategically arranged piles of rocks. The guides are knowledgeable and some speak English, and it is completely worth the small price. Don't forget to tip, though!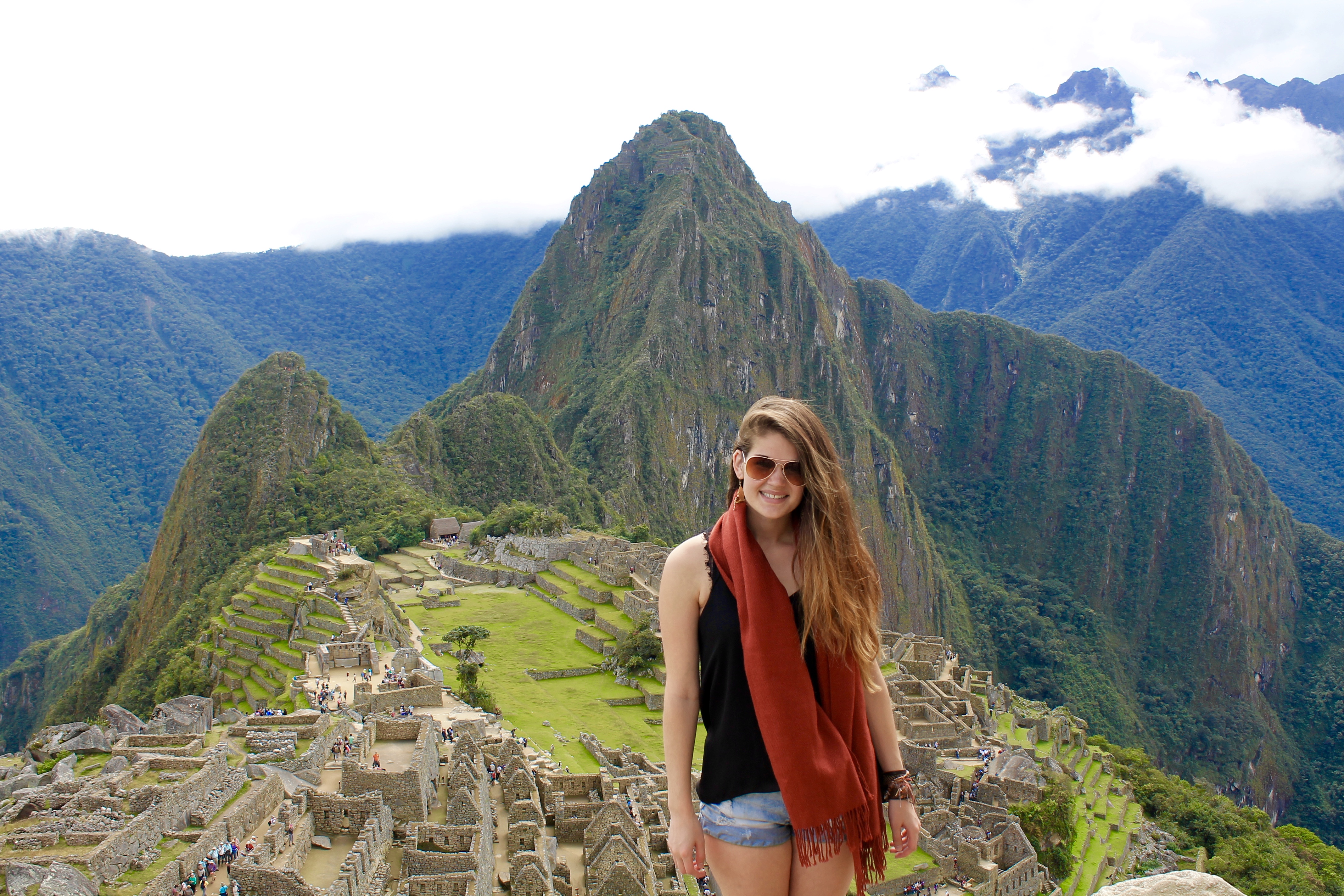 You'll know where the lookout points are because everybody will be flocking there. Hike up to the landing, snap your iconic picture, and enjoy your time there. Don't leave until you're ready, but don't spend any money on food as it is exorbitantly priced. If you want, you can get a Machu Picchu stamp in your passport near the backpack check, but I'm sure you're saving those precious pages for other adventures.
Step Six – Do It In Reverse
Head back to Cusco. The train from Aguas Calientes to Santa Teresa is only about $20 if you want to save a few hours on the hike, but that's up to you. If you arrive at the hydroelectrico in the late afternoon, you will find hoards of people and combis looking to drive back to Cusco. We were lucky enough to find a comfortable and affordable one that felt far safer than the coach bus we had taken to Santa Maria, and it even stopped at a restaurant on the way to Cusco so we could fill our hungry tummies. It will most likely take you to either the combi station or one of the plazas in the San Blas area.
Why Do it on a Shoestring?
Overall, what could easily become a several-hundred-dollar trip just turned into about a $30 one if you exclude the cost of the Machu Picchu entrance ticket and the bus fee, and you'll have an incredible story to tell of how you hiked the train tracks to Machu Picchu, hacking the system and having a grand old time with your travel buddies.
It is also a more responsible way to travel, minimizing your footprint and giving you the power to choose where your foreign dollars go, such as lesser-visited destination like Santa Teresa or the fruit stands along the train tracks.
Even for the non-budget traveler, I would recommend this route simply because it is an adventure. It requires patience and flexibility, and it will definitely keep you on your toes.