While I was partial to visiting Tokyo for the time being, the city that really drew me to Japan was Kyoto. I could have spent a week in this small city alone, but two days was enough to get a feel for this city, a breath of fresh air, and a surplus of awesome photos. Kyoto is beautiful. 
We arrived to our hostel at night after a moderate walk from the train station, down quiet empty streets and through peaceful alleyways. Somehow, all of Kyoto smells of fresh balsa wood and plants, and the city at night gives you the very intimate sense of being invited into a kind stranger's home. 
We stayed at Len Hostel Kyoto, which was just a few blocks from the city center. It was quite a bit more expensive for food and drinks than I would have preferred, but it had a lovely boutique feel and was superbly above the hostel quality I'm used to.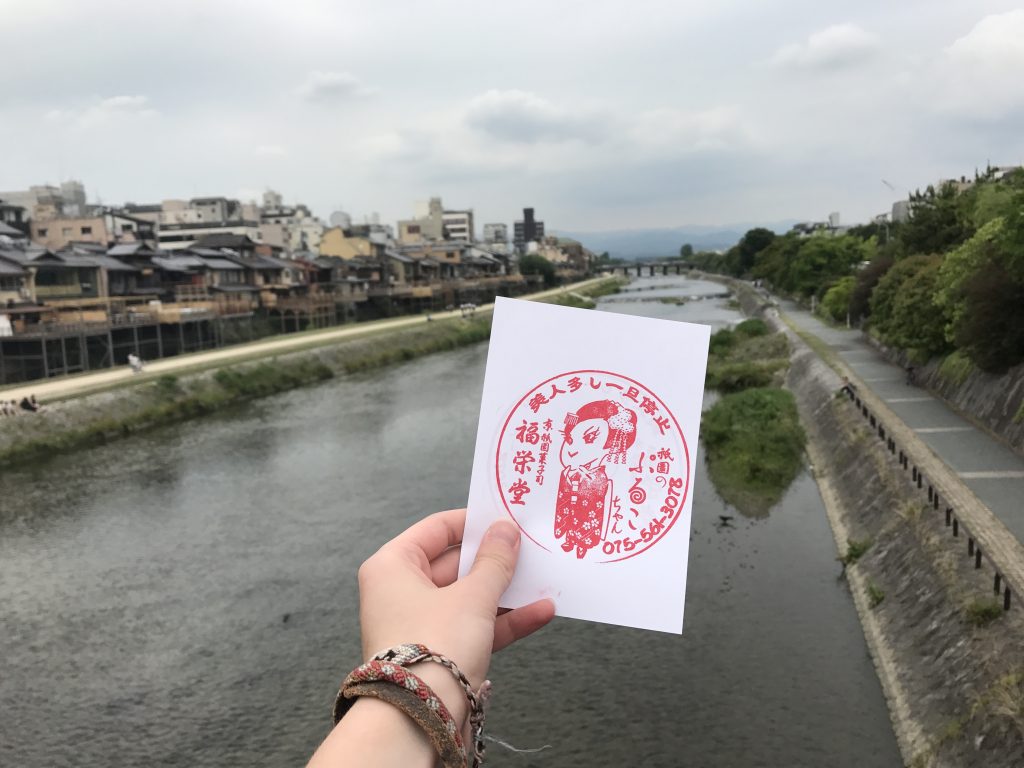 Nishiki Market
First thing in the morning, we headed to the Nishiki Market, a long indoor market of fresh and unique Japanese food, drinks, and other adorable things. Here there were all sorts of delicious looking things, as well as some more questionable options that we naturally couldn't rule out–such as mini octopi stuffed with quail eggs, all sorts of raw seafood, and countless items-on-a-stick.
My favorite was the fried crab paste on a stick. It was so tasty that we came back for it the next day! We also tried some tasty fruit donuts, blueberry honey tea, sweet sake, macha ice cream, and basically anything else that looked good. We were quite hungry.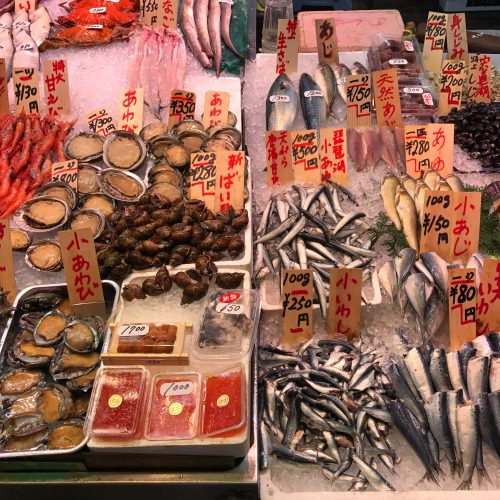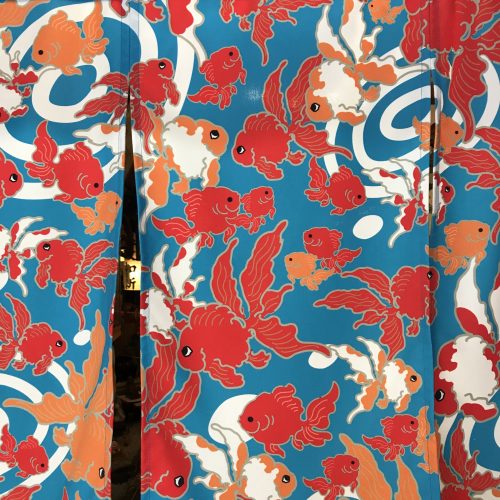 Afterwards, we wandered the shopping arcades (and Japanese video game arcades) until we got our bearings and headed towards the action.
Gion District and Temple Wandering
The Gion District, famous for it's potential Geisha sightings, is the major cultural and tourist center of Kyoto. While wandering down one sleepy, narrow street, I swear I saw a Geisha crossing from one small building to the other. I'm sure its quite difficult to differentiate the true Geisha's from the tourists wearing rented Kimonos, but this woman was alone, discreet, and clearly on her way somewhere. So cool.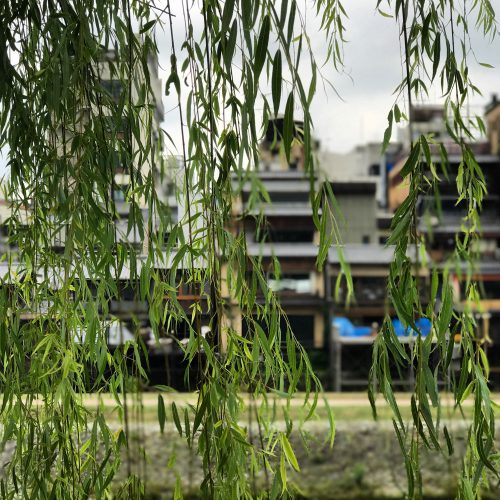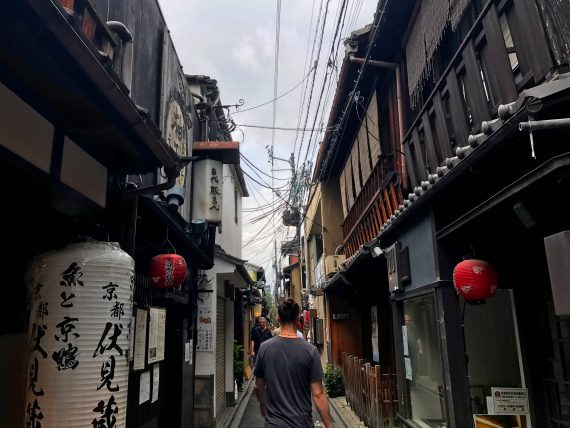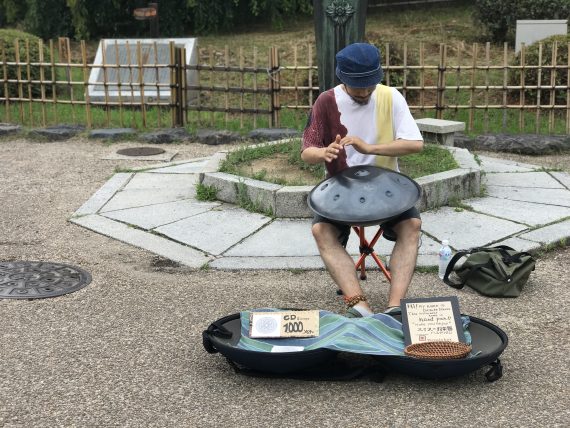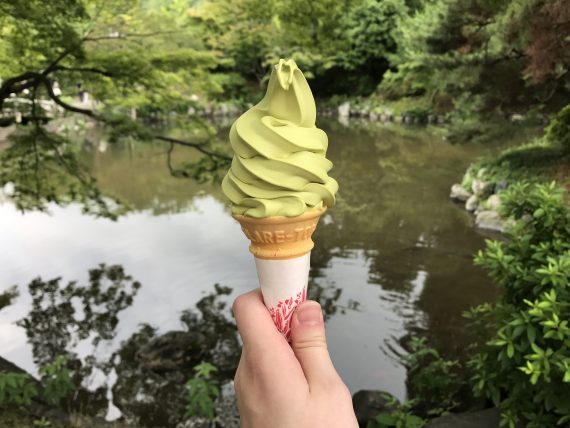 Crossing the bridge, we wandered through the streets to the Yasaka Shrine and the surrounding Maruyama Park, where I enjoyed some macha ice cream, live music, and peace and quiet. It could not have been a more perfect afternoon.
As we continued on, the crowds grew, and we found ourselves climbing hills and following paths to shrine after shrine, and after a while the heat of the sun got to us and we headed towards our hostel.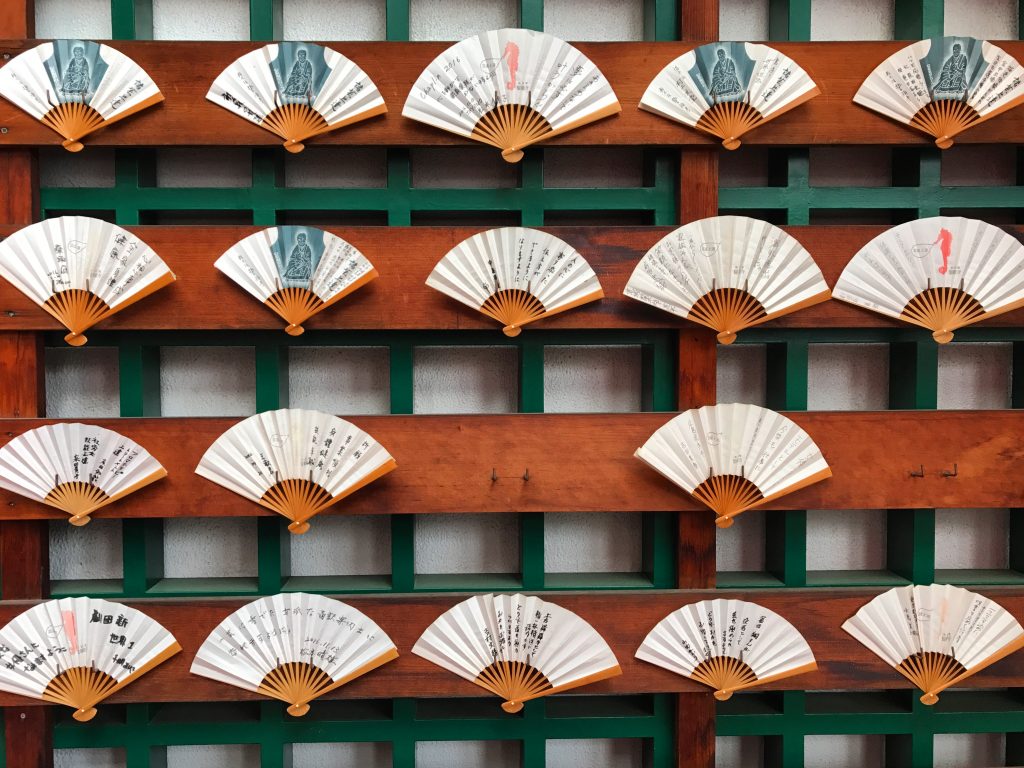 Each of us had a quick afternoon nap, Karl followed his heart to a Pokemon Center in Kyoto (apparently not far from Len Hostel), and we both felt rejuvenated enough to visit the coolest spot in the city.
Fushimi-Inari Shrine
We got here just after 5 o'clock p.m., which, by our logic, would be better for crowds since the rest of the city was extremely packed during the middle of the day. Maybe we were right, but there were still hundreds of people out and about exploring this World Heritage Site.
And let's be real, it is one of the coolest sites I've ever visited. As usual, I didn't know quite what to expect, but there were far more than a few of the bright torii shrines, they weaved through the park, up and down hills, through the forrest, and essentially guided the path up the mountain. It was never ending. It was incredible.
The sun began to slip away as we reached a map that directed us either up the mountain or down to the exit, and despite my thirst and early onset grumpiness, Karl pushed me to keep going. Even when we reached what I thought was the top, we realized there was still another 30 minutes to go. We did it. Thanks I guess, Karl 😉
The view was completely worth it, and at the top there were even more additional shrines that were really cool (and kind of creepy) to explore at dusk. Also this high up, we were quite alone and there were virtually no other visitors willing to make the trek in the near-darkness.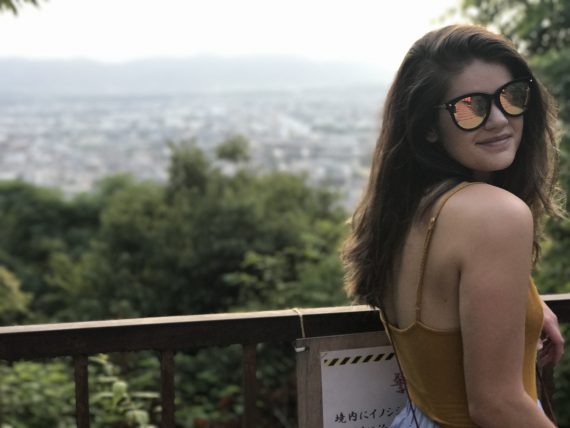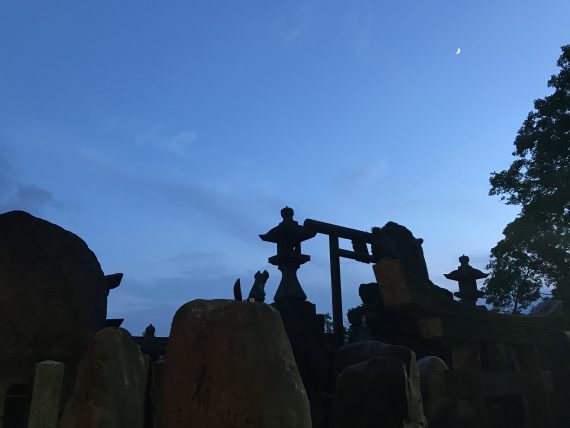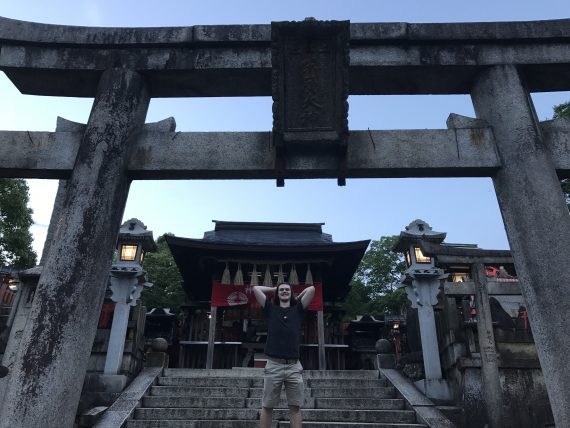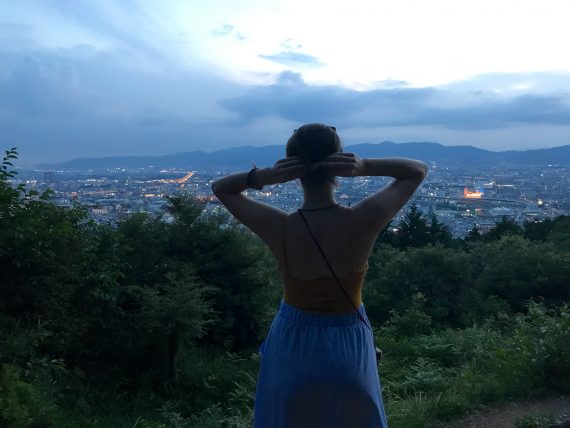 And after all that appetite-building shrine-hiking we did, we went out for an indulgent sushi dinner that came out to over 70,000 yen. We totally deserved it, though.
Day Two: Arashiyama
In the morning of our last day in Japan, we returned to the Nishiki Market for some delicious Japanese breakfast on a stick, and then caught a train out to Arashiyama, a quaint area just outside of the city famous for it's bamboo forest.
Upon arrival we found a bike rental place, something I had been dying to do in Kyoto, and we rolled through the beautiful area and up to the bamboo forest.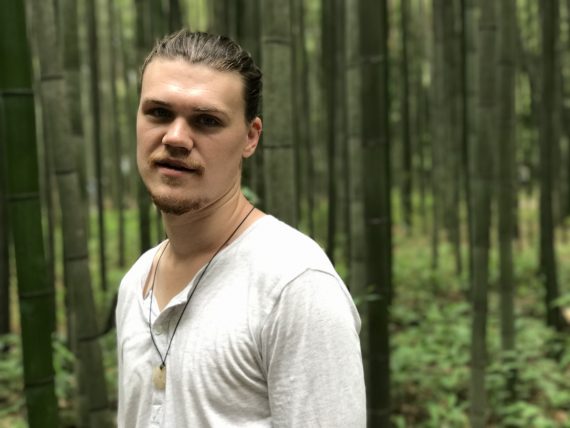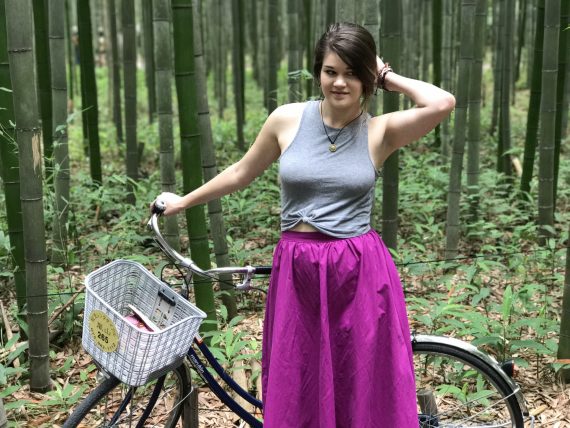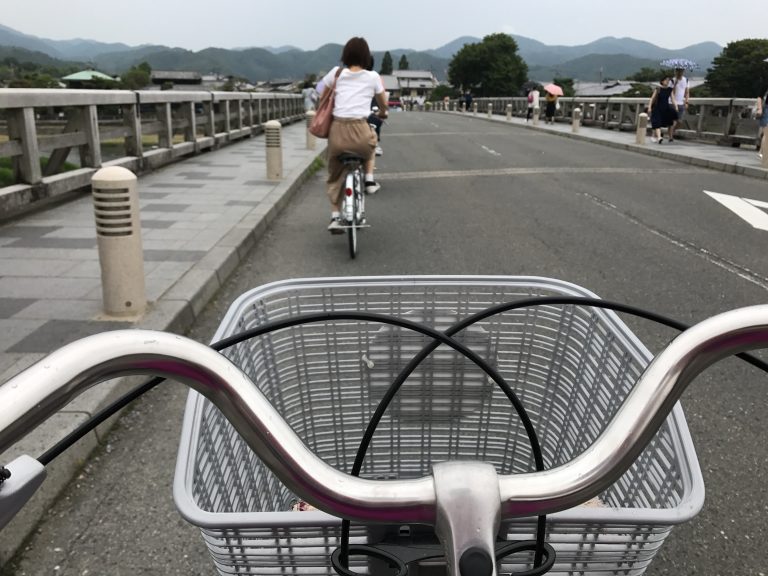 It was quite crowded, we had to dismount our bikes and walk in most parts, and I had imagined it quite a bit bigger–but it was beautiful nonetheless.
We continued biking in no particular direction but up, and followed the street of one of most beautiful and peaceful parts of a city I have ever seen. Each building was carefully crafted with the most intentional and lovely wood detail, and the small shrines on the sides of the street to honor the trees, the plants, everything–it was so beautiful. It even started raining the most delicate, gentle drizzle, and even with the overcast skies the morning was perfect.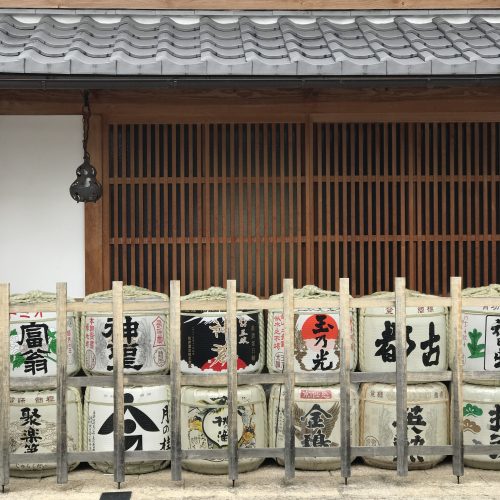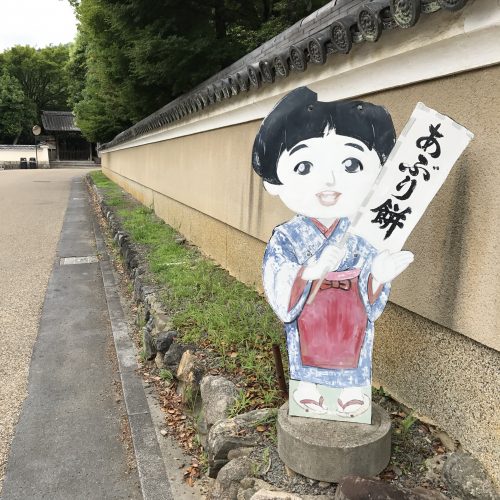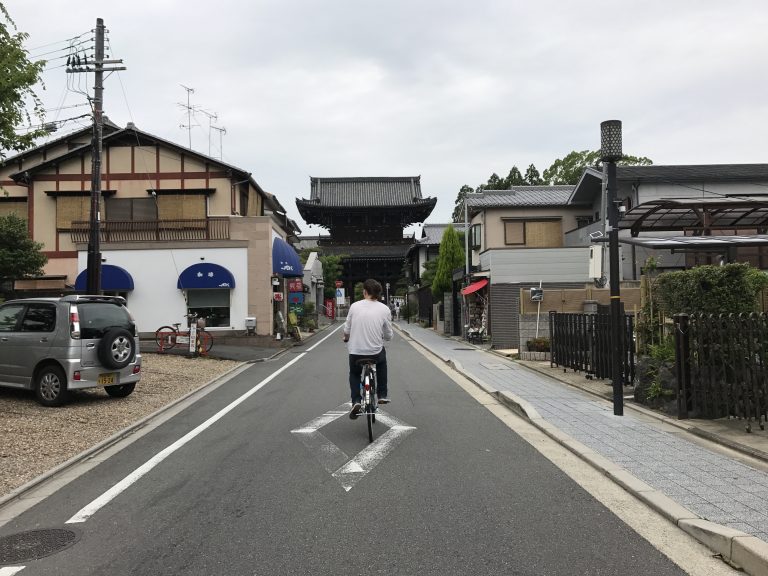 After we returned our bikes and boarded the train back to the city center, we were about ready to head to the station to catch one more train to Osaka, where our flight would depart that night.
We will had some time though, so we ate lunch at the coolest restaurant in Gion, one that I don't even remember the name of but that you cannot miss–the awesome decorations outside drew me in, and the fact that they only have one main menu item to choose from sold me on it. Sometimes the fewer choices, the better.
We ate an awesome Japanese burrito thing with veggies, tofu, and other delicious flavors, headed back to pick up our bags, and waved goodbye to Kyoto. Until next time.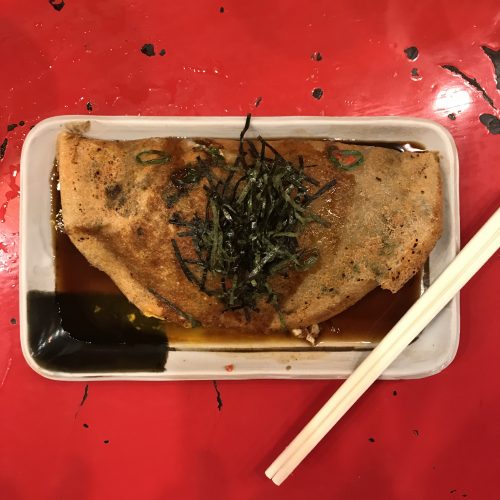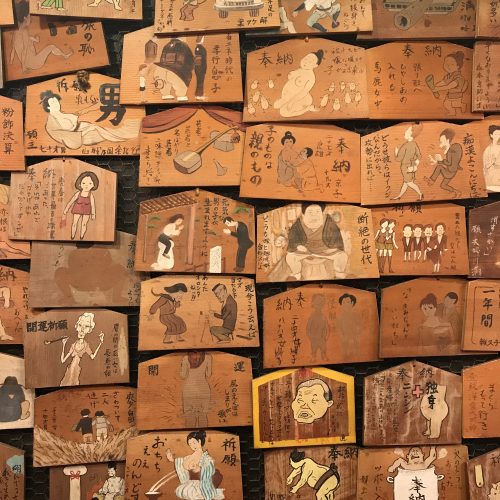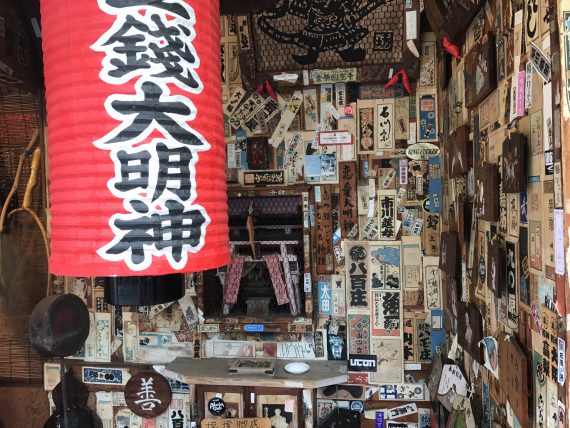 At the airport, we realized that it would cost extra to check a bag. Having no other option but to quickly down our bottle of sake that we bought at the Nishiki Market since we couldn't carry it on, we sat around the airport, played with the Pokemon vending machines, and both agreed that Japan was a much-needed vacation away from China, an awesome experience, and one of our top destinations to return–in ten or so years when we have real-people jobs and extra cash to spend. Phew, my poor wallet.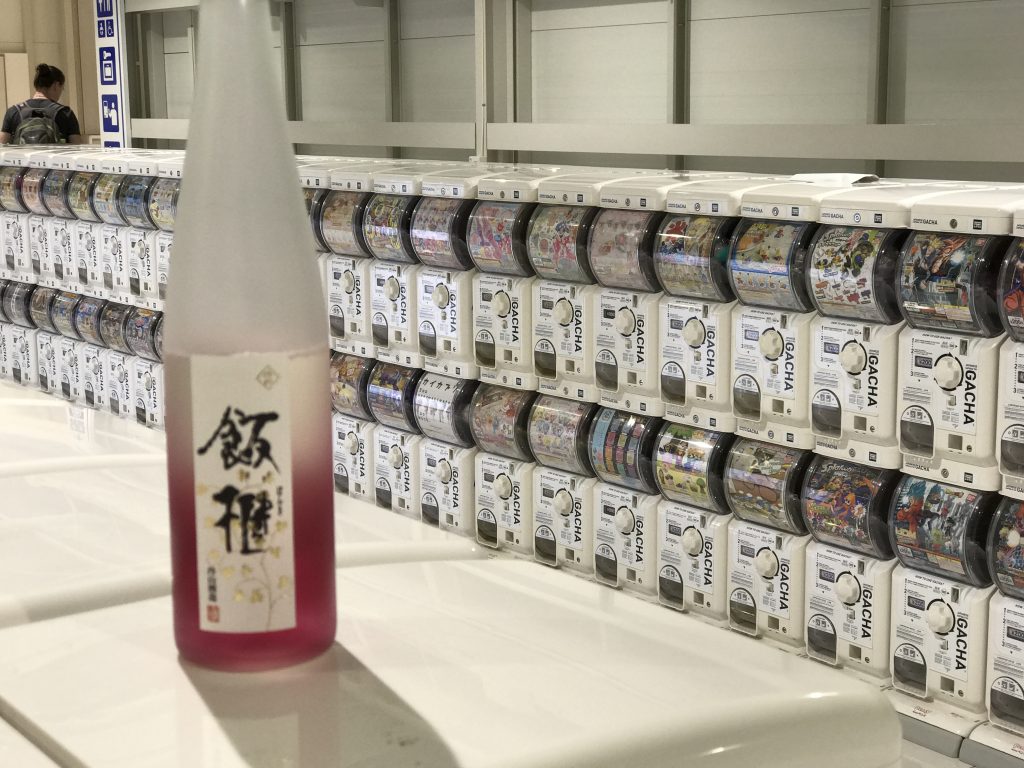 Is there any place that you would love to return to, but not for like, a really long time? Let me know in the comments!
Are you caught up on my adventures? Read about the two days I spent in Tokyo before visiting Kyoto!