South America always has it's way of bringing me back. After my trip through the Southwest Circuit of Bolivia and visiting the Salar de Uyuni, I know that it is a place I have to return to someday—but for reasons that you probably wouldn't guess. 
The adventure began when Karl and I left our home in Buenos Aires, Argentina and bought a one-way bus ticket that would take us all the way to the very tip-top of the country to cross the border into Bolivia. Our backpacks were loaded and our suitcases from studying abroad were already on a flight back home to Minneapolis without us. We skipped that, instead opting to spend a month backpacking through South America and ticking off items on our bucket list. The first checkbox was the Salar de Uyuni.
This giant, expansive salt flat was a huge draw for us and one of the main reasons we chose to go to Bolivia rather than Northern Chile. I'm a sucker for crazy geology, and this seemed to take the cake.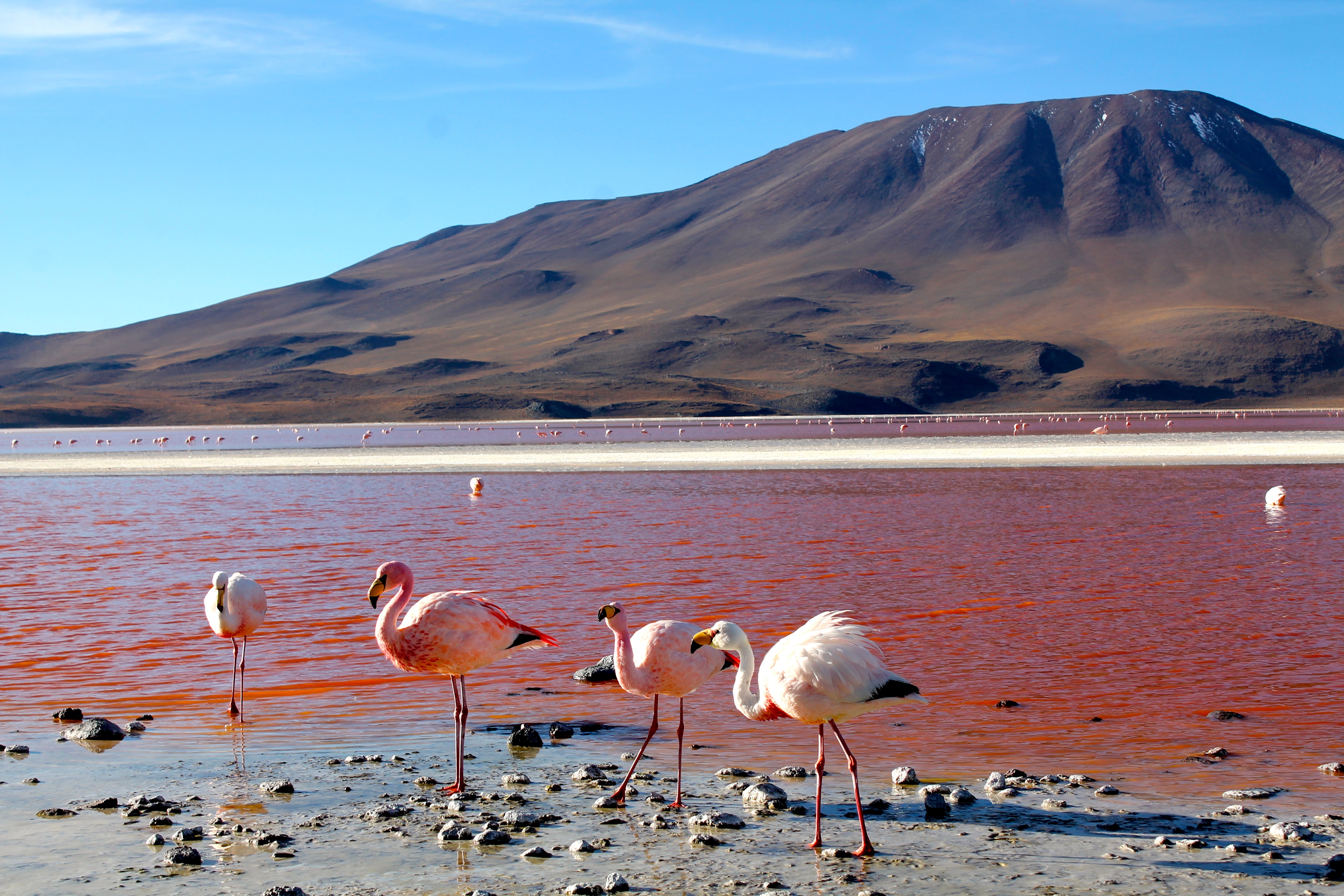 We were not disappointed. After crossing the border at Villazon (and interacting with a corrupt border agent who definitely pocketed our fee), taking a cramped van to Tupiza, and getting hit hard with the intense change in altitude, we loaded up our bags into a Land Cruiser driven by our Bolivian tour guide for a 4-day trip through the desert Altiplano, often called the Southwest Circuit.
Riding shotgun was our cook, a Bolivian woman who would be preparing meals for us and for another car of travelers. All together, we were two Americans, one and a half Brits (and one half French), two Belgians, one Argentine, and one Italian.
Along with several Land Cruisers from other tour companies, we spent our days driving through mountains, plains, lagoons, and everything else imaginable. This circuit is like a geological grab bag—you never know what you will come across next.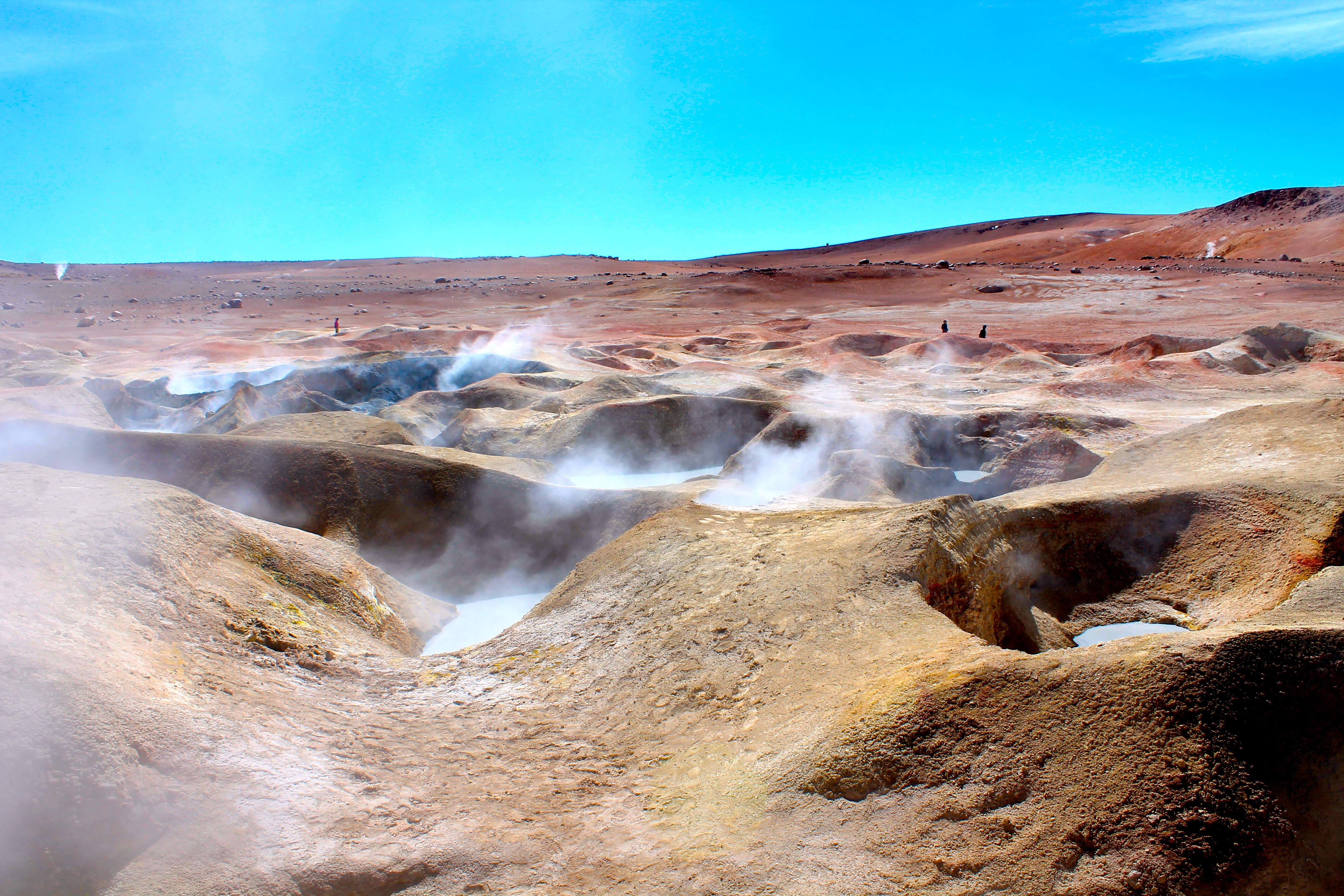 All was well for the first two days. We explored mountains, geysers, hot springs, lagoons, and basically everything imaginable within the span of a few hours. It was incredible, until night #2 of the tour.
I had been feeling nauseous since our group arrived at the hostel and didn't eat very much for dinner, and I opted to head to bed on the early side hoping to feel better. Long story short—I didn't get much sleep, because the feeling in my stomach worsened and worsened until I woke up our hostel room by grabbing the nearest garbage bin and, um, vomming my guts out.
For the rest of the night, I was running back and forth between the room and the bathroom, and I was so thankful that I had packed a flashlight or my aim may not have been as on-point. I got sick about nine times total until there was absolutely nothing left to get rid of—I'm so sorry for that image. Whether it was food poisoning or altitude sickness, and I'm going to guess a mix of both, it was the worst I'd ever experienced and the misfortune did not end there.
If you've ever been violently ill and wretched countless times in the span of a few hours, you don't simply wake up from that experience anew, having cleared your soul of all toxins and ready to take on the world.
No, it's actually miserable. Each swallow was like a dagger in my throat and my chest ached for days. I was so exhausted, residually nauseous, and moderately traumatized that I could hardly move a muscle for the rest of the trip. It was a terrible way to start off our backpacking trip, and it was an even worse way to experience the Salar de Uyuni.
The journey continued on, exploring more geographical wonders as I reveled in my own misery. That's not even sarcastic. The night before our final day, where we would finally visit Bolivia's massive salt flats, our car-mate and British/French friend Sarah also became extremely ill, probably with the same affliction I was facing.
Needless to say, our adventures in the Salar de Uyuni were less than eventful, and I wanted to write this post as a way to show off our hilariously pitiful pictures while others were having the time of our lives taking distorted perspective photos and jumping, laughing, and having a great time.
While others were doing this:

We were doing this:

It was just short of devastating to be so ill that I couldn't enjoy this incredible place that I had wanted to visit so badly. At least when I had a kidney stone, it rid itself from my system before the big hike in Torres del Paine. This time, my body just kept taunting me all the way through Bolivia.
When the tour was over and Karl and I hopped on a bus to Potosi, the illness hit Karl as well. Several doggy bags and t-shirt rags later (again, sorry for the image), we were off the bus and ready to keep ourselves on the DL for the next few days—good thing we chose the highest altitude city in the world, right?
It was definitely one of my worst travel moments, but I still had a great time before the illness hit and once I'd fully recovered, although it really affected my experience in Bolivia since we had such a short time that we were able to spend there. By the time we reached La Paz, I still wasn't feeling 100%, and it wasn't until we were on the shores of Lake Titicaca that I truly felt like our adventure was beginning.
I'll definitely have to visit the Salar de Uyuni again someday, but this time I'll bring my own food, acclimate myself, and start in the town of Uyuni for a day trip to the salt flats—there is only so much adventure this girl can handle sometimes.