I love big, open skies. I love deserts and oceans, and I love the deep, saturated color of each. Visiting Paracas National Reserve in Peru's desert region was a huge highlight for me, and the Ballestas Islands were just an added bonus.
After we visited Huacachina, Peru for our sandboarding adventure, we headed to the coast for an afternoon in Paracas before returning to Lima. I booked this excursion not really knowing what to expect (except penguins—I knew there would be penguins), and I was not disappointed. We booked with Jon at Huacachina Tours, and the service was excellent. This isn't even a sponsored post, Jon Green is just awesome. 
We arrived in Paracas, a small coastal town in the Pisco province of Peru, at around 8 o'clock in the morning for our boat tour. The town's main industry is tourism, and they really executed this exceptionally—service in all areas of our trip was fantastic!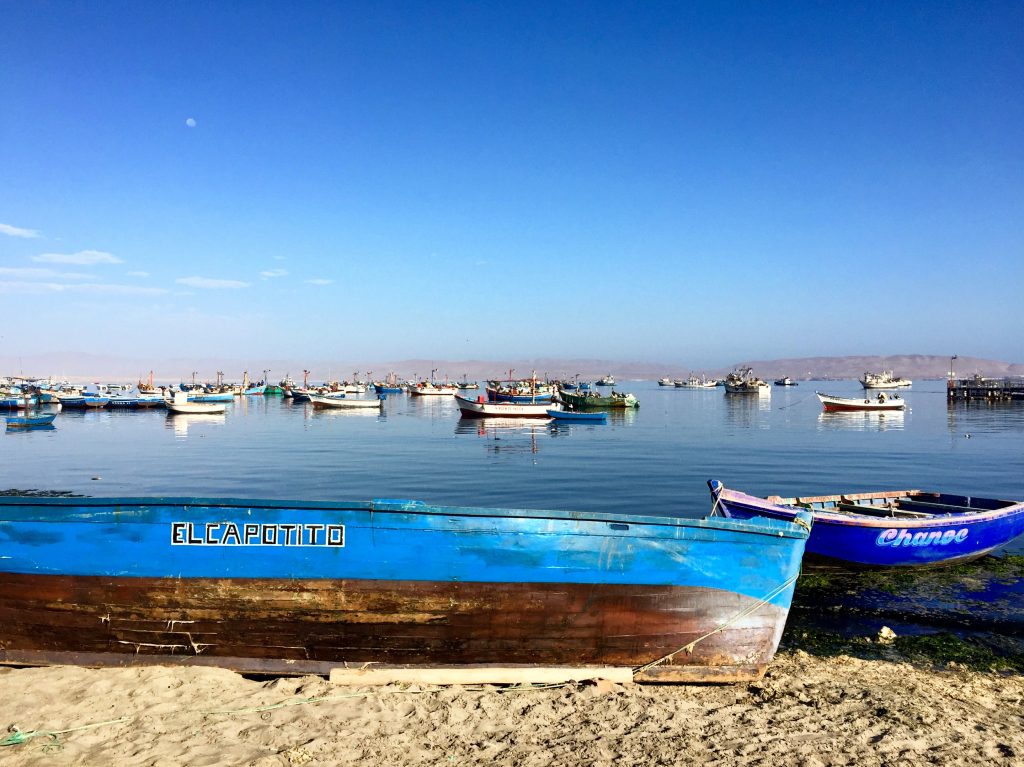 Our first activity was a boat tour of the Ballestas Islands, a chain of preserved islands off the coast of Peru that have played a major role in Peruvian history, as well as being the home of some pretty incredible wildlife—did I mention penguins? There were also seals and sea lions, the infamous blue-footed booby, and even a pod of dolphins that seemed to be putting on a show for us!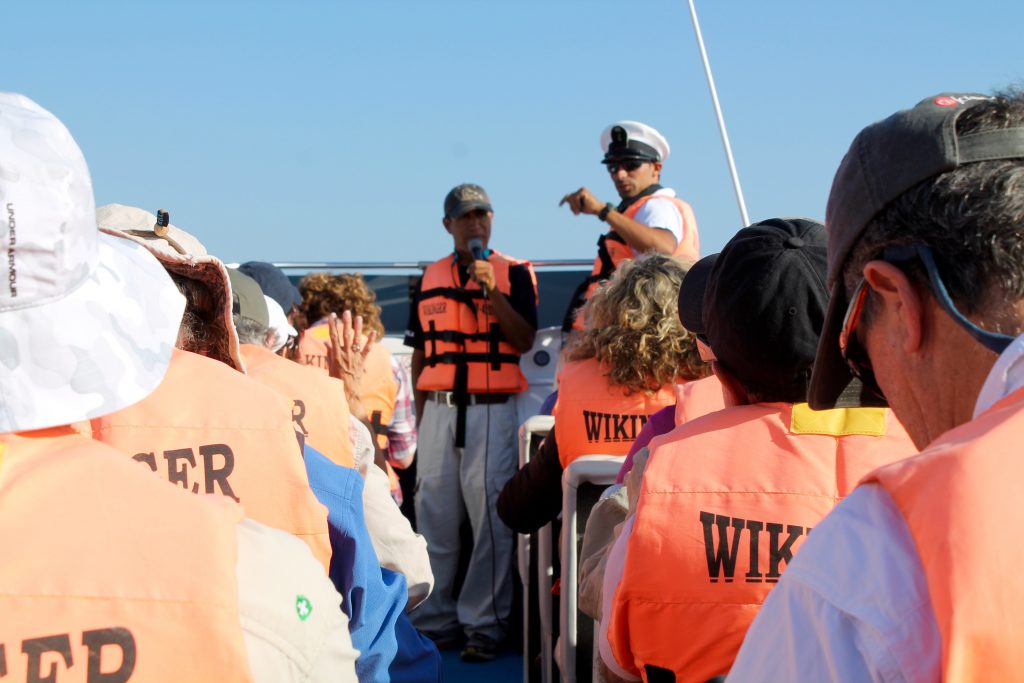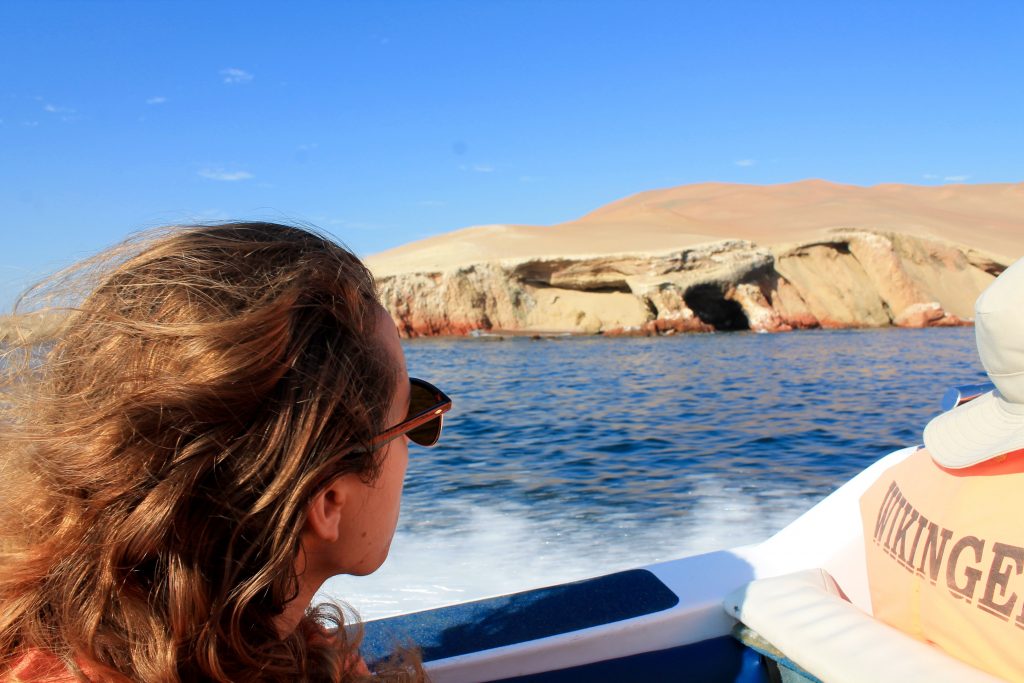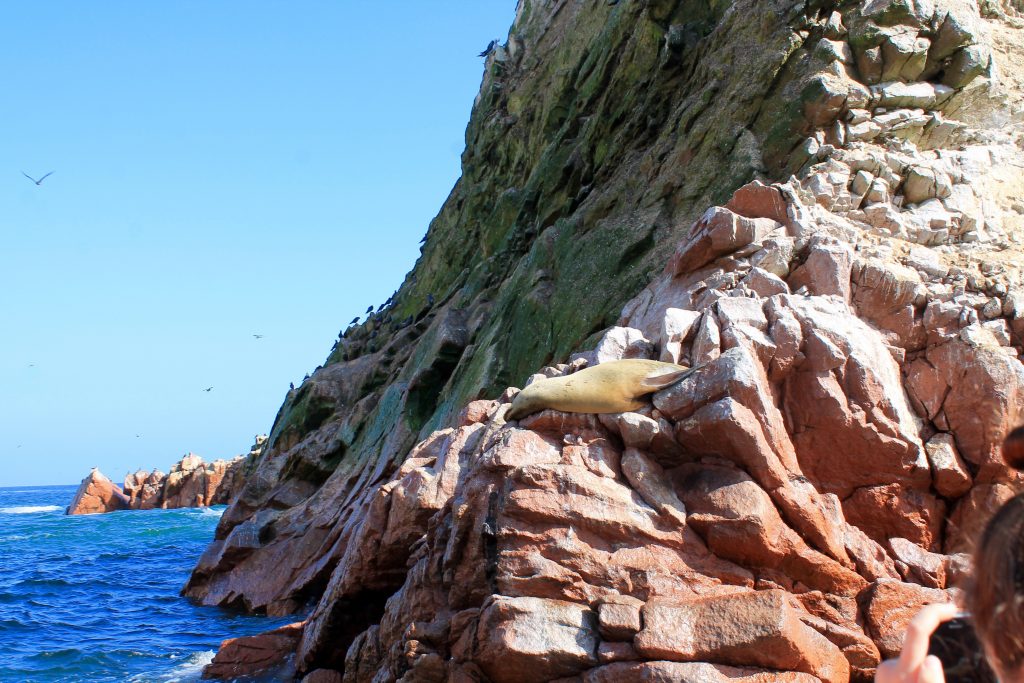 Our guide performed the tour in both English and Spanish, and he narrated for us the history of the Ballestas Islands and their mysterious past. The Candelabra is an iconic image in this region, and it is one of several sets of unexplained lines found around Peru and likely leftover from ancient indigenous cultures. Have you ever heard of the Nazca lines?
Carbon dated back to 200 B.C., the exact symbology or purpose of this massive geoglyph are unknown, but many attribute it to the indigenous god Viracocha, or to other aspects of ancient indigenous culture. The glyph can be seen from over 12 miles away, and has been used by sailors for centuries as an important landmark in navigation.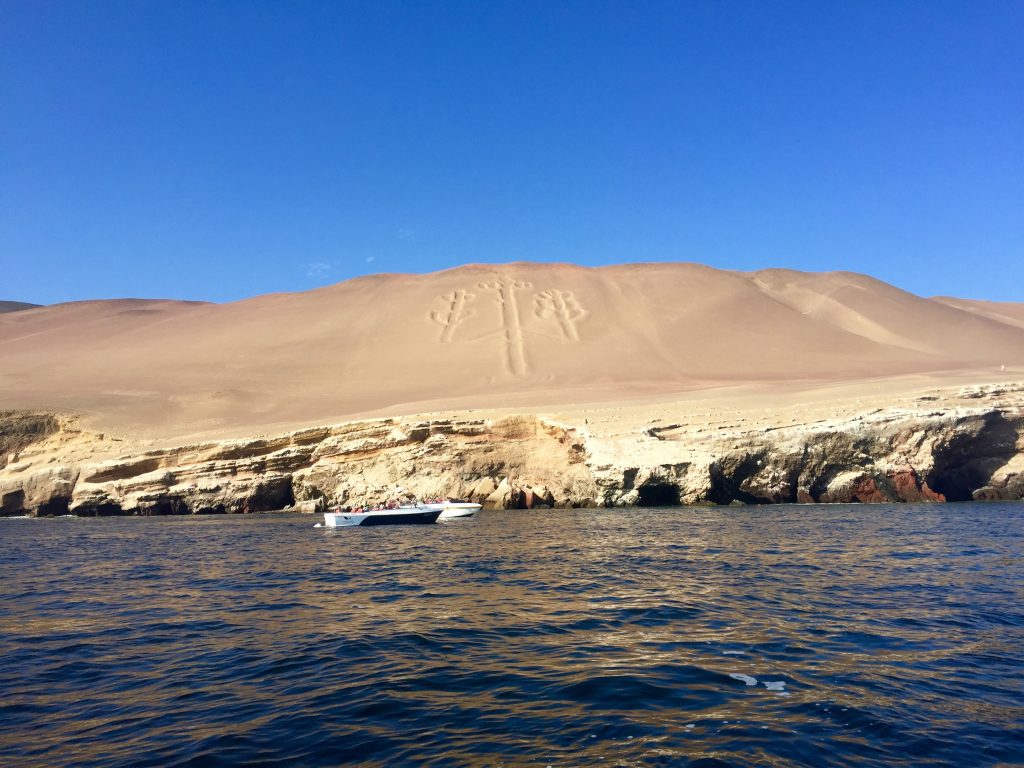 I'm fascinated by indigenous culture, from pre-Colombian times, to the Incas, to todays Quechua and Aymara cultures, so the next part of the day was really fascinating for me.
We hopped in a bus and took a tour of the Paracas National Reserve, a massive desert that finds itself right on the Pacific coast of Peru, providing a stark contrast between desert and ocean. It is home to many species of wildlife, most notably the flamingos that were the inspiration for Peru's red and white flag!

Our guide also taught us about some of the ancient Paracas cultures that have existed in the area. Hundreds of burial sites were discovered in the desert, which were the resting places of the people who lived in the area between 1200 and 100 B.C. There was evidence that they interacted heavily with the people of Nazca, and even with cultures in the highlands of Peru hundreds of miles away. The Paracas people also practiced head-binding, which set off my Indiana-Jones-Kingdom-of-Crystal-Skull-slash-Ancient-Aliens obsession, and I bothered the guide with questions about alien conspiracy theories in the area. He said he doesn't buy into it.
At the end of the tour, our guide brought us to a few gorgeous beaches where ocean meets desert (isn't that just the most beautiful phrase?). The first was an inlet with rough red sand and gorgeous views, and the second was a relaxing spot with wildlife, great swimming, and a few bars to relax with a Cusqueña brew and watch the waves.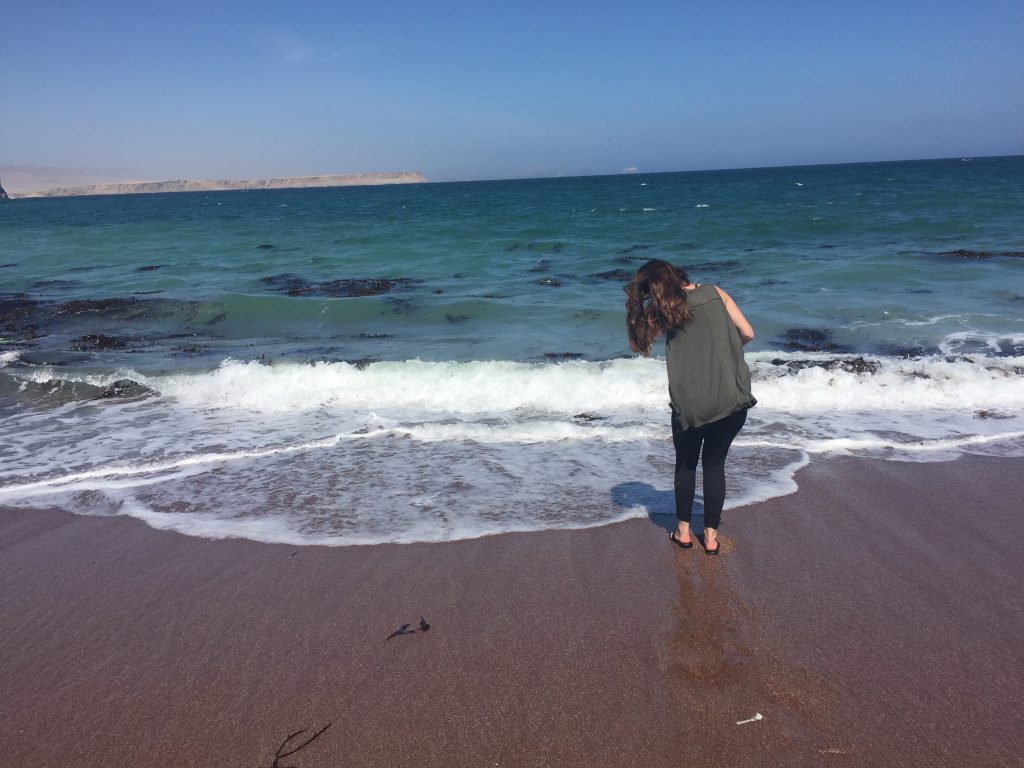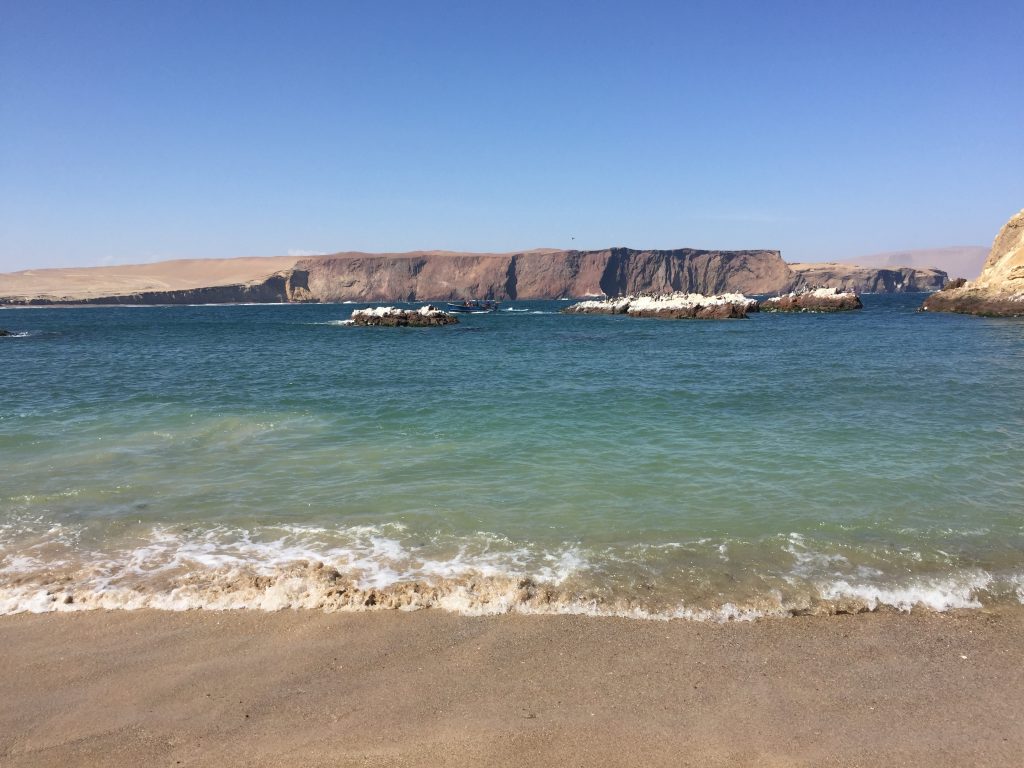 It was a great day, and I would highly recommend it to the backpacker who doesn't quite have the budget for a grand tour of South America including the Nazca Lines and the Galapagos. There was diverse wildlife, incredible views, and ancient history. What more could you want?
Paracas tips: Double up on your trip and do Huacachina the day before! Relatively close to each other, you can easily do both in order to justify a 4-hour trip from Lima. Be sure to wear sunscreen, and eat a light breakfast before the boat tour. 
Getting here: Take an easy bus from Lima, or arrange transportation from Huacachina. You will always be able to find someone willing to transport you, whether that is a bus, a combi, or a private taxi.