Question: What's four hours from Lima, feels like you're in the Sahara desert, and is insanely fun? Answer: The one and only Huacachina, Peru!
Although pronouncing it may be difficult, this is an easy destination on any backpackers itinerary while exploring Peru, especially if your travels revolve around cities like Cusco, Arequipa, and Lima. Located in a desert oasis just minutes from Ica, Peru, the capital of the Ica province, Huacachina is a destination unlike any other.
Huacachina's rolling expanse of sand dunes go on for miles. The dry, dusty atmosphere somehow makes the sunset even warmer, and the view of the oasis from the top of the dunes is one you will never forget. Arrive in this tiny town in late afternoon (4pm) just in time to gear up for an intense adventure, and get ready for a wild ride!

I went with Huacachina Tours, and was more than pleased with my service while working with Jon to arrange a tour for the group I was leading. We were set up with an awesome English-speaking guide and a dune buggy, and were each given sand boards to practice our new hobby. The tour was awesome, and typically costs around $20 USD per person and can also be booked upon arrival in Huacachina.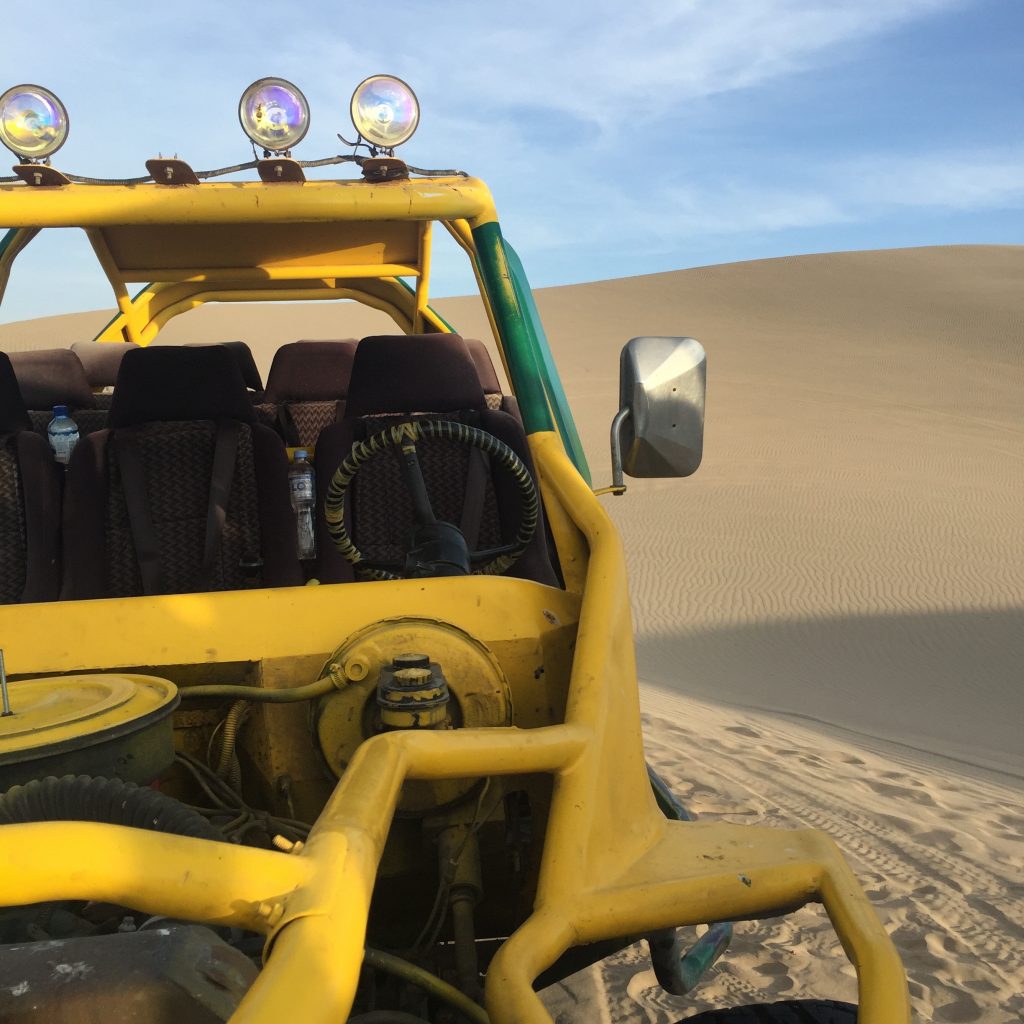 In short: the dunes were awesome. Be warned though, photos of Huacachina's sand dunes don't nearly do them justice, and these dunes are so much bigger than they appear. Going down can be scary!
To get out and find some great dunes to board down, our guide drove us in a dune buggy throughout the desert, and never was he shy about sending us flying down dunes that I thought were cliffs, or scaring the hell out of us with some of the air that we got off of sand "ramps." It was as if the dunes were our own giant rollercoaster playground, and it was a serious adrenaline rush!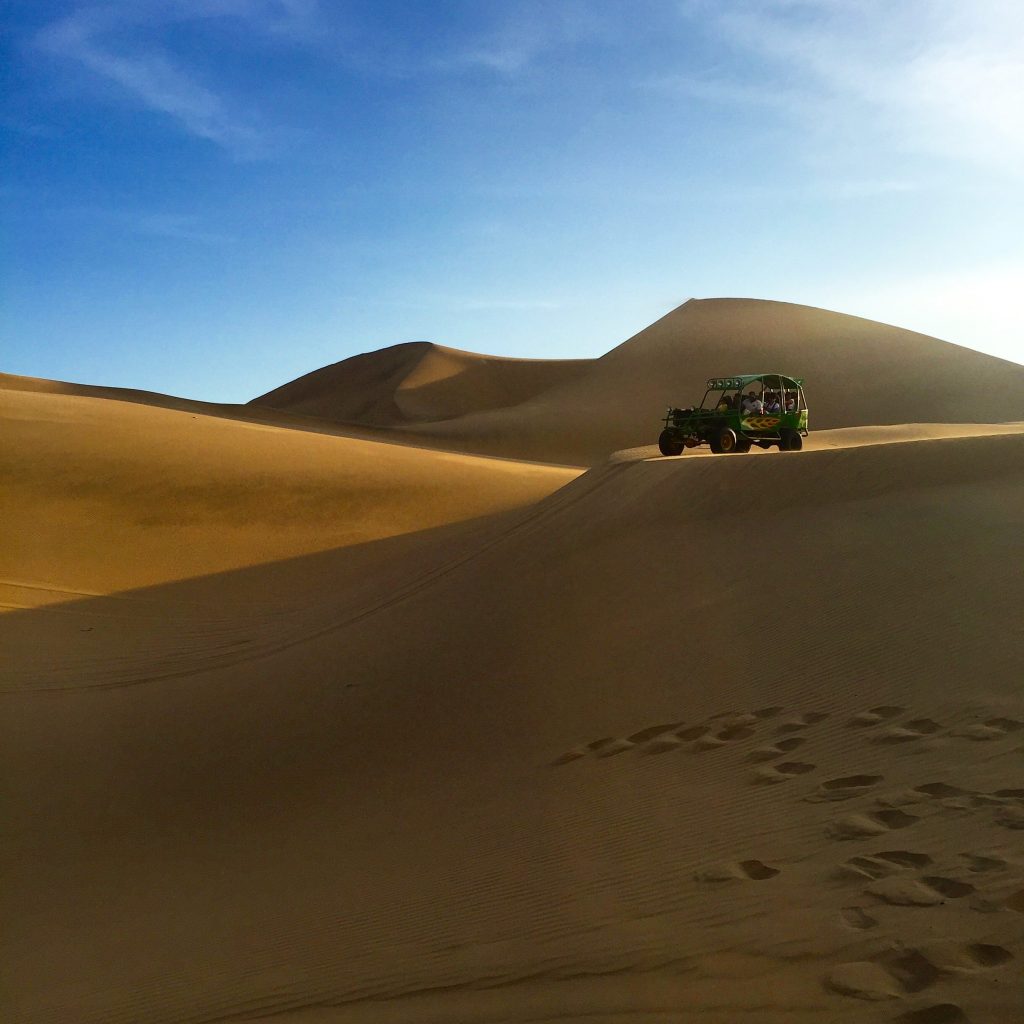 Sand boarding itself was a bit of a challenge since I have no background in snowboarding or even skiing, so the guide recommended that I go down on my stomach. I got sand in places I never imagined I could, but it was completely worth the awkward shower afterwards.
As someone who is afraid of heights, this was definitely an experience that pushed me out of my comfort zone. Looking to the bottom of the dunes we were about to slide down was like staring down a mountain—these were not short distances, and as we got more comfortable with the board, our guide brought us to steeper and longer locations.
At the most challenging spot, one of my braver travelers went down first, slowly in the beginning and then nearly giving me a heart attack when we all watched as she slipped quickly over the edge of a steep dune screaming like a little girl. I was terrified, but I either had to go down on the board or on the buggy—and the latter would definitely be scarier (although maybe a bit safer).
Overall, this was a fantastic way to spend an evening. Although it was about a four-hour drive from Lima, all 8 of my travelers felt it was completely worth it, and it was one of the most unique travel experience they had ever had! It is also a great place to visit if you are also interested in seeing the Paracas National Reserve and the Ballestas Islands, which are only about an hour from Huacachina.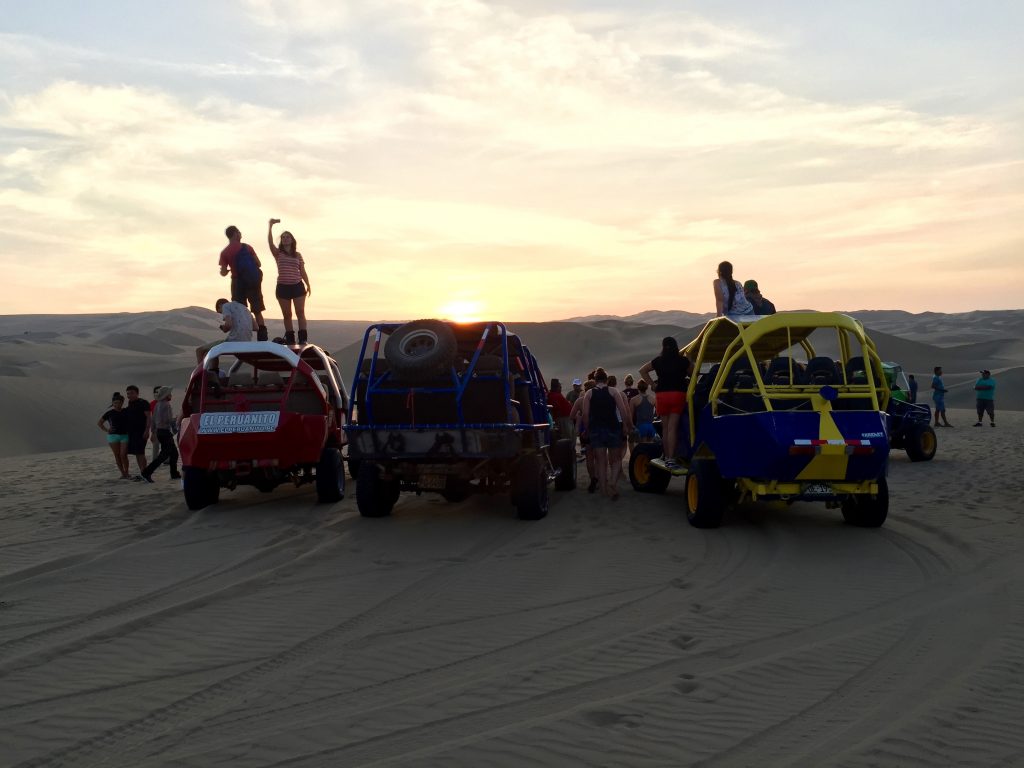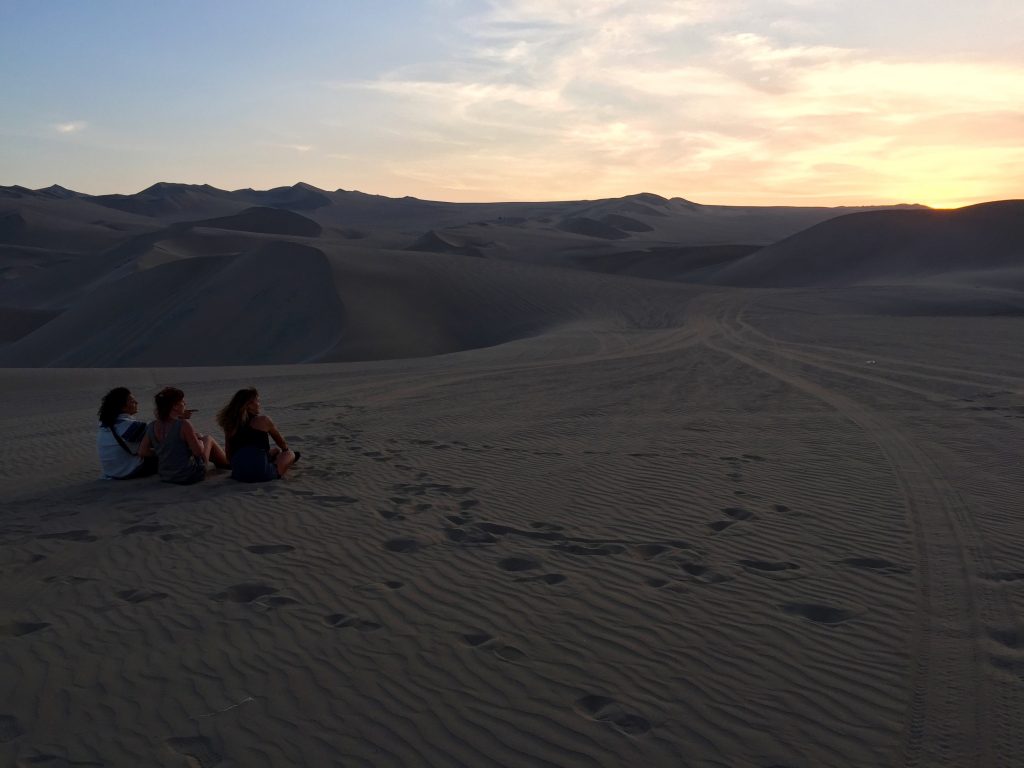 Tips for sand boarding in Huacachina: Definitely wear clothes that you don't mind ruining. While mine made it out alright, they were covered in sand until I washed them, and they could have been a lot worse for wear had I wiped out on the board. Some websites will recommend that you wear tennis shoes, but that is a recipe for a sock full of sand. Go barefoot for this one. 
Where I stayed: We stayed at the Hostal Carola del Sur in Huacachina, which was a great location with a full bar, restaurant, pool, and a big community of other travelers. It is a huge place and quite loud, but overall we enjoyed our stay. 
Getting there: We took private transportation, but it is an easy bus ride from Lima. Buy a bus ticket from Lima to Ica, and when you arrive in Ica take a quick taxi to Huacachina's oasis. It can also be reached by bus from Cusco, Arequipa, or other locations in Peru.