Let's be real, Tokyo is super cool. It is super modern, super quiet, super fresh, and super stylish. It is a quick flight from Shanghai, but it's a completely different world.
I worried that our quick four day break from school wouldn't be enough time to visit both Tokyo and Kyoto, and in reality it wasn't. BUT, it was a fantastic break from the stress of Shanghai, even though we were only visiting more large cities.
Something about Japan was just so peaceful, and I could sense it the moment I stepped off the plane.
Day One: Sushi Breakfast
After a two hour red-eye delay at Pudong International Airport, our Peach Airlines flight finally landed at Tokyo Haneda around 8 o'clock in the morning. We had originally planned to land at 6 a.m., the result of an unfortunate budget flight that we were too cheap to pass up.
However, that put us at a convenient enough arrival time to check out one of Tokyo's early-morning spots that we otherwise may never have visited: The Tsukiji Fish Market. We took the train in from the airport, transferred once, and found the fish market right outside of Tsukiji Station.
The fish market is open well before the crack of dawn, and it is the largest wholesale seafood market in the world. Some hardcore travelers may take the opportunity to watch the famed fish auction take place at an ungodly hour, but after our draining flight, all we wanted was an expensive sushi breakfast.
Priced at 2,300 yen, each of our meals were a nice first bite of Japanese prices. We're not in China anymore. But the small sushi cafe experience was unmissable, especially since our fish had likely been bought and butchered that morning just around the corner.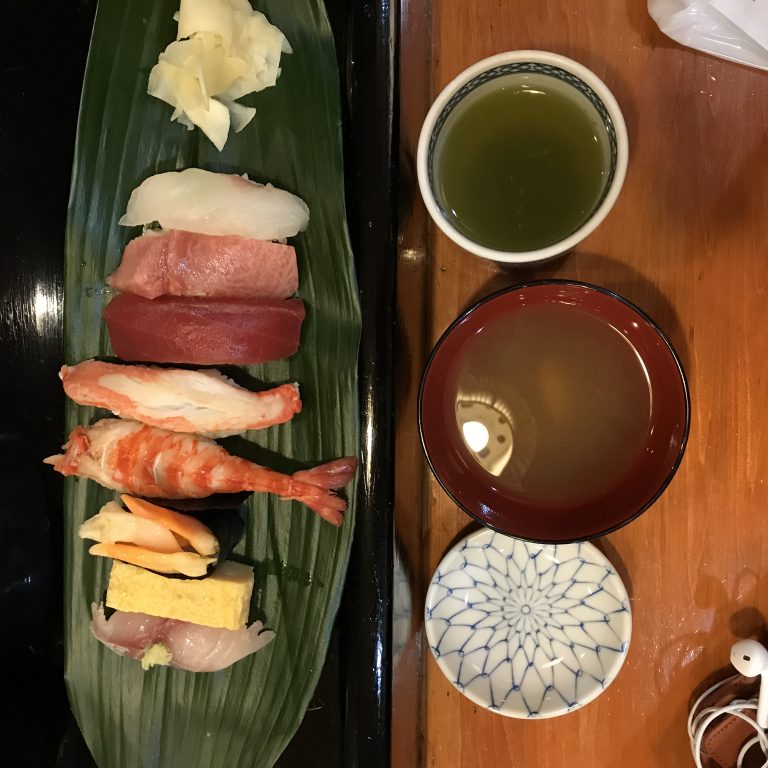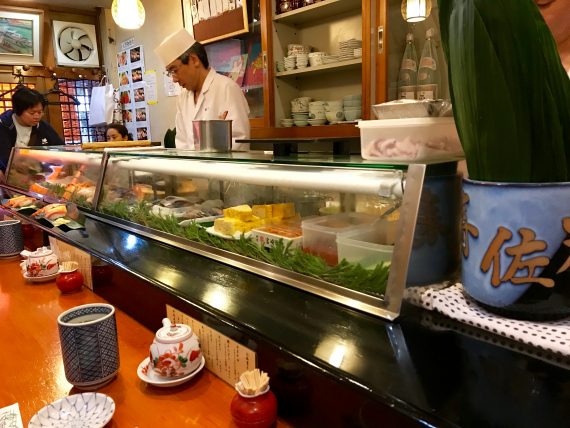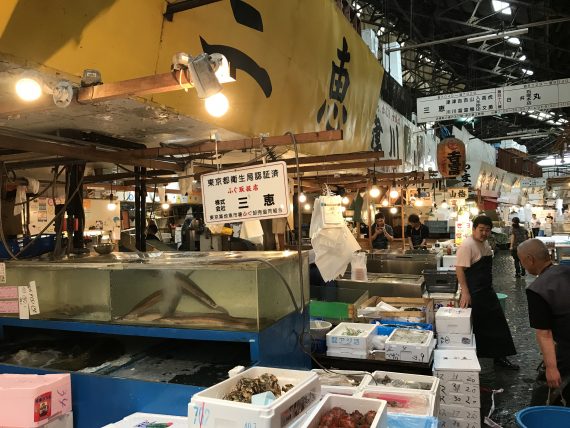 The Pokemon Center
This is arguably the reason Karl wanted to come to Japan. A Pokemon trainer at heart, he made sure that we went far out of our way to visit a Pokemon center in the Ikebukuro area of Tokyo. Karl was in memorabilia heaven, and I wandered around the mall waiting for him to decide on which plush toys to buy.
He only spent about $50 US after wandering for almost 2 hours. Impressive.
We also wandered into a few of the many Japanese arcades, rife with crane game offering adorable plush toys. Karl tried countless times during our trip to win me a fluff, but to no avail.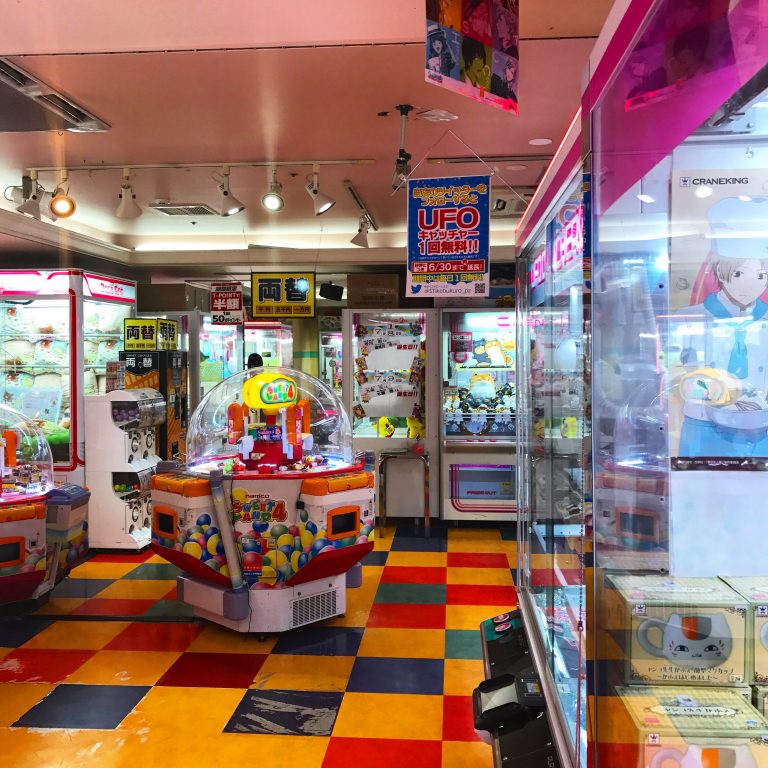 Meiji Shrine
After stopping at Obi Hostel to drop our bags and take a rest we made our way towards Shinjuku to wander for the rest of the evening.
We walked down the trail to the Meiji Shrine and enjoyed breathing in the fresh, quiet air of Tokyo. Much of the path to the temple is surrounded by trees, an experience I'd missed during the last few months.
Before entering spiritual sites in Japan, many have a purifying station, called a temizuya, consisting of ladles and a water trough. With one scoop of water holding the ladle in your right hand, begin by purifying your left hand with the water. Switch hands, pour the water in your mouth (swish don't swallow), and then rinse the ladle itself before replacing it on the trough.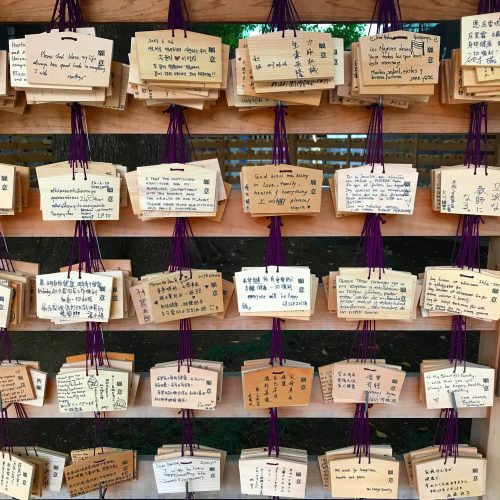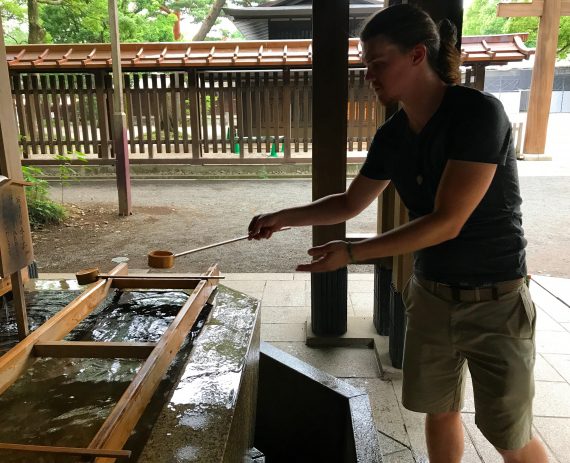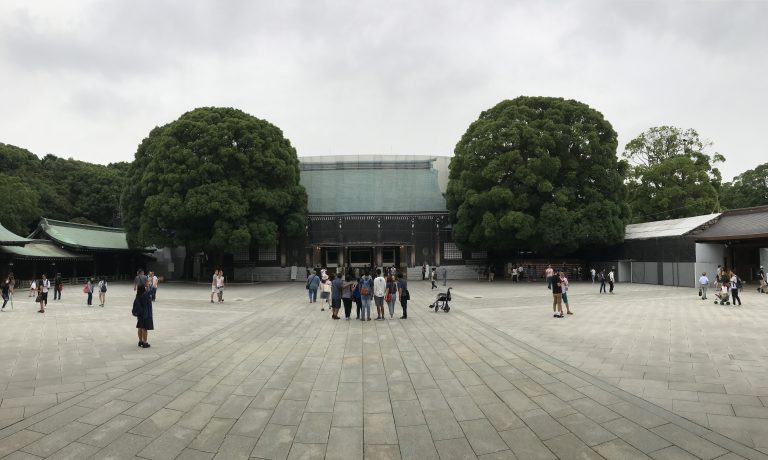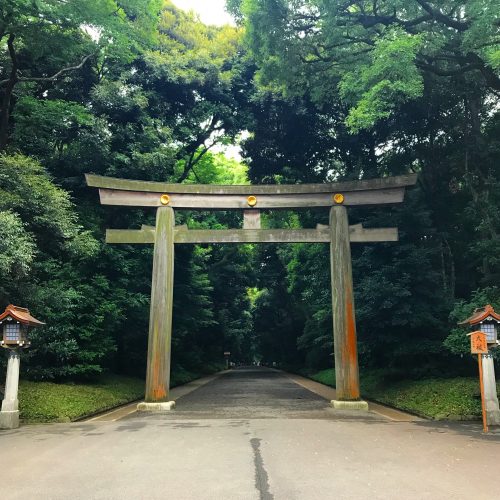 Harajuku
Continuing to explore the Shibuya area, we came upon Harajuku. The name brought me back to Gwen Stefani circa 2005, a time in all of our lives that was just B.A.N.A.N.A.S.
I will be honest, Japan kind of intimidated me. I had never been a reader of anime or manga (and I still don't know the difference between the two–are the interchangeable?), and not to offend anyone, but cosplay freaks me out. I don't want to reduce Japanese pop culture down to just those genres, but having never been a Japanophile, I fully anticipated mouthing the words what the f*** at every block.
Not the case. Harajuku was really cool, and correct me if I'm wrong, but it seems like the kawaii Japanese trends of colored wigs, giant eyes, bright fluffly dresses, and overly adorable accessories are going out of style, and if still in existence, are quite novelty. Again, please educate me if I'm wrong. I only had two days in Tokyo.
The area was full of trendy shops surrounding a touristy stretch, called Takeshita Street, of novelty stores and ragstock-type shops that were really fun to browse through.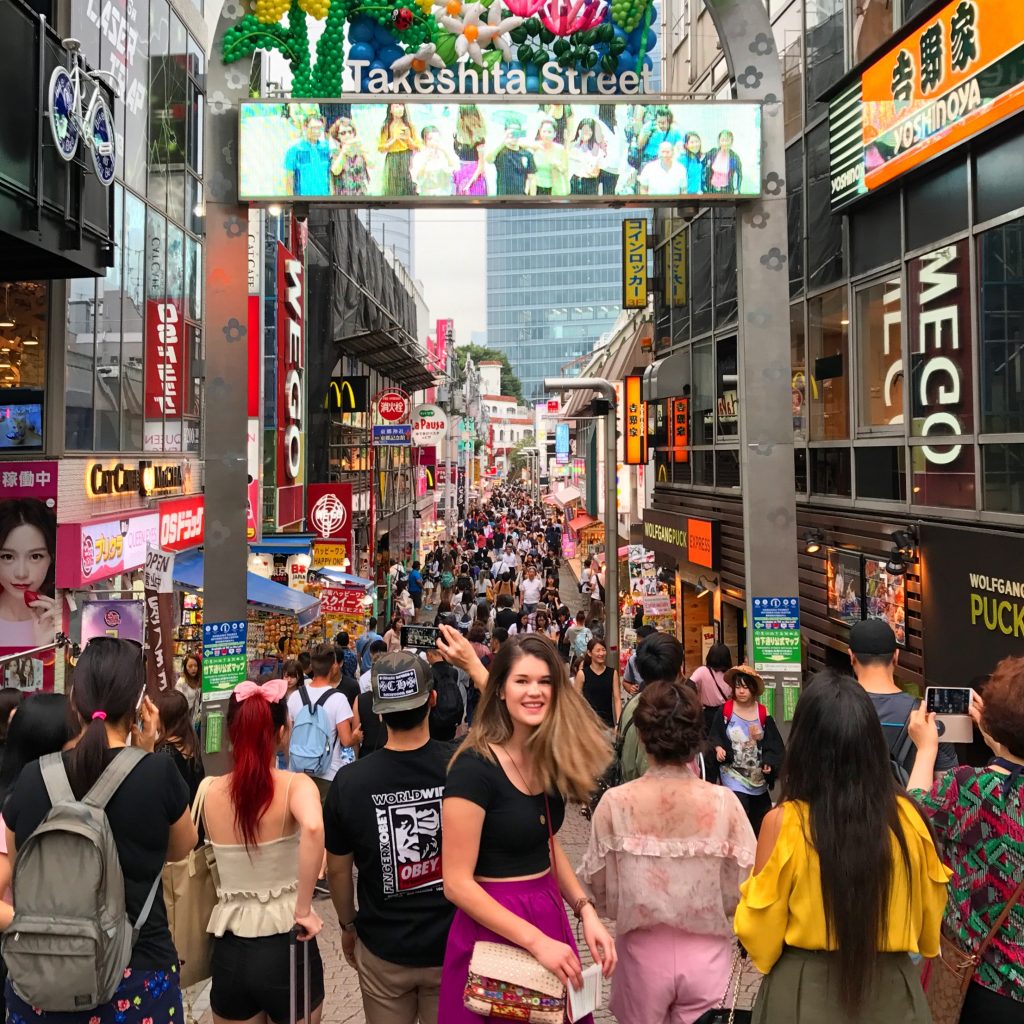 Can you spot both of me in this picture? 😉
After our long wander through Shibuya, a few blisters, and some serious difficulty finding somewhere to eat, we were in bed (or rather, in pod) (get it? pod hostel!) early to get ready for our second day in Tokyo.
Day Two: Akihabara
We were up reasonably early the next day to explore Akihabara, an area near our hostel that is the home of Tokyo's famous electronics market, as well as the video game mecca of Japan that was just around the corner.
I'm not particularly keen on cool electronics or video games (are you noticing a trend yet with me and Tokyo?), but Akihabara was dope. We visited quite a few anime and video game stores, and one in particular really sparked both mine and Karl's interest.
Super Potato is a large retro game store, peddling all things from Sonic to Super Mario to old-school Pokemon, and those are just the ones I'm familiar with. Karl could have spent an eternity in there, and I was content after playing Super Mario World (the game of choice of my 10-year-old self) on a retro little game machine. He swears that some of the Pokemon games pictured below could make him rich one day.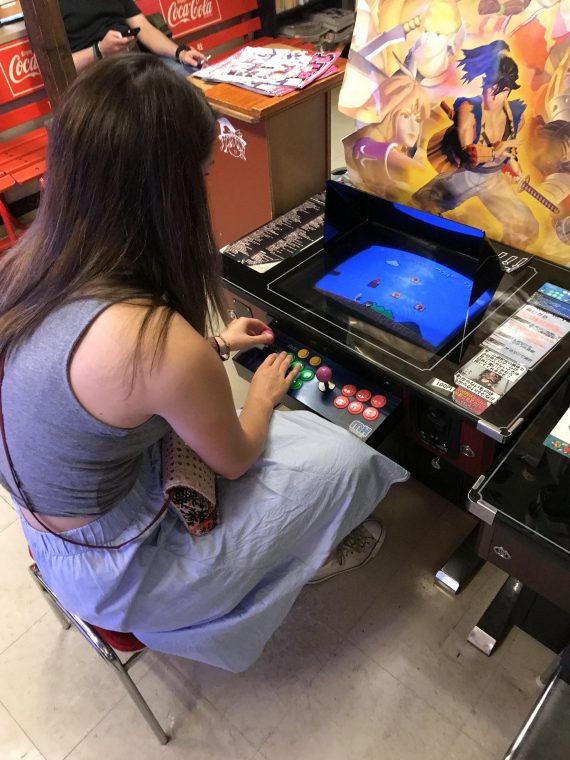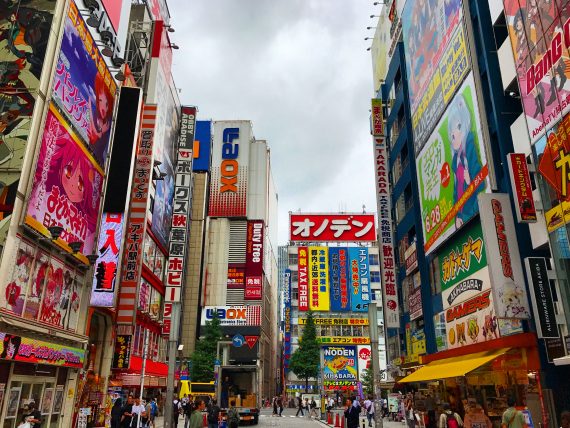 Asakusa and Senso-ji Temple
After Karl's video game itch had been scratched for eternity, we hopped on the subway and headed to Asakusa, a very touristy but very lovely area with a loooooong stretch of delicious street food stands and knick-knacks for sale. Boy, I love travel knick-knacks.
We wandered around, ate some tasty ramen, bought several of said knick-knacks, and explored the area around the Senso-ji Temple before heading back to pick up our bags at the hostel.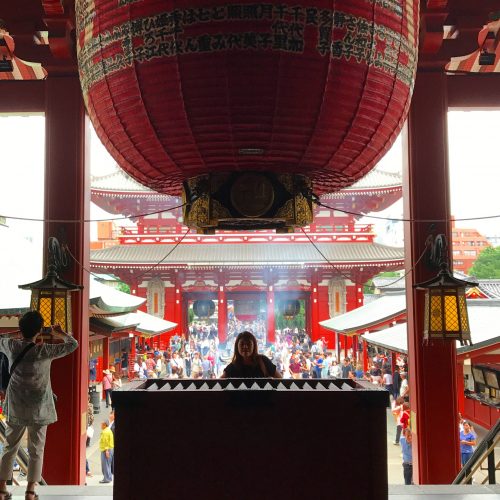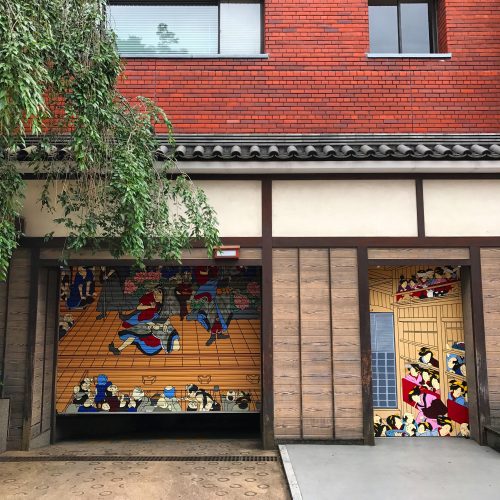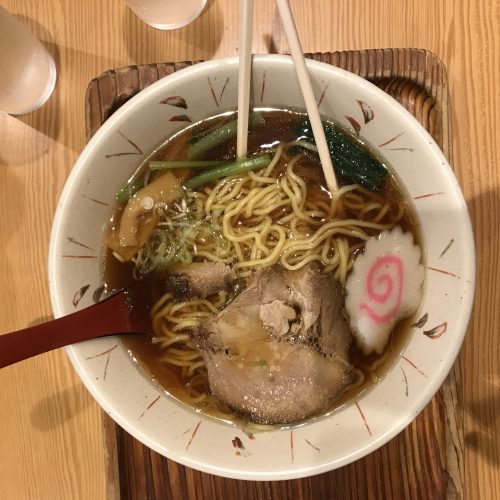 Overall,
Tokyo was fantastic. There were so many interesting things to see and do, and I know if I stayed longer I would find so many things to love about it. That's not to say I didn't love it, but Karl really loved it. And I'm so happy about that.
Could we have done more in two days? Probably, but we really messed up by not getting subway passes on the first day and instead bought individual tickets for each ride (yikes), as well as our energy levels were pretty low from our red-eye flight and the long work weekend we had just came off of.
It will definitely be a place to return in the future when we have more time and, uh.. more padding in our pockets. It was incredibly expensive, but that's to be expected in such a world class city.
Next: Shinkansen to Kyoto
We caught a 6 p.m. train from Tokyo Station to Kyoto for no small fee, but the ride was smooth and quick. To read about our short time in Kyoto, stay tuned!